Silver Wings 1/32 Hawker Demon MK.1 No. 22 Sqn, RAAF Richmond, Late 1930s
By Eric Galliers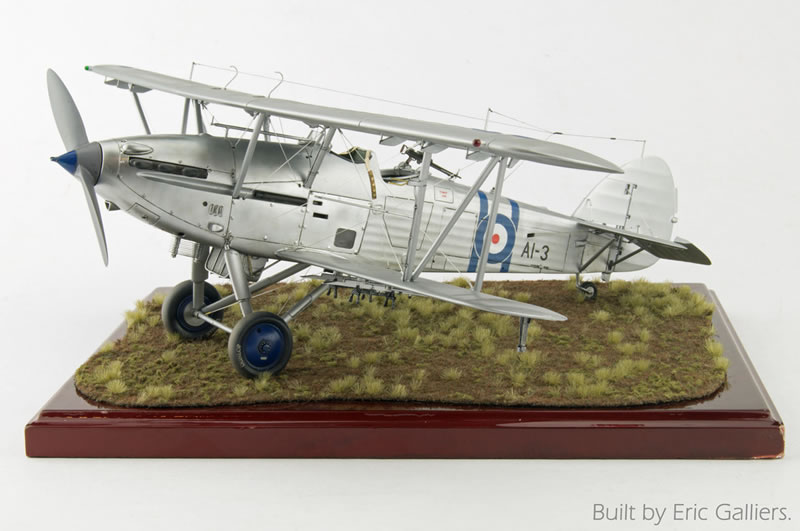 This is my newly completed Silver Wings Hawker Demon.
The kit took approximately 3 months to complete and was built to represent an aircraft serving with No. 22 Sqn, RAAF, based at Richmond Airbase, New South Wales.
This particular aircraft (A1-3) was the first Hawker Demon assembled and flown in Australia, being delivered and built during 1935. It was involved in an airshow fatality in early 1936 where 2 spectators were killed when the aircraft accidentally hit them, later crash landing. After being re-built, it was passed between a few different units before finding a home with No.22 Sqn. It was involved in another crash landing during an Army co-operation exercise when it was forced to land on a road due to bad weather. It was finally converted to components in December 1937.
Modifications/Additions
Single fuel tank between top wings converted to a dual tank configuration
Small windows in the fuselage added beneath pilot seat
Trim tab added to rudder
Navigation lights added to wingtips and rudder
Various panel lines added
Scratch built tail wheel and yoke assembly
Scratch built ring and bead gun sight
Scratch built `rams head' exhausts
Scratch built outer wing hardpoints
Scratch built Instrument panel, including Airscale decals
Copied Bomb racks from the Hawker Hart kit
RB productions Sutton Harnesses
Scratch built pitot tubes and pipes
Added fuel lines between top wing and cowl
Re-worked radiator grilles
Oil cooler modified to look better
Blast deflectors added to gun barrels
Rigging terminators scratch built on wings
Added a Wingnut Wings Lewis gun
Rear gun mount modified to the stowed position
Added gun stowing bracket
Rigged with Elastic Knitting in thread, brass tube turnbuckles
Other stuff I may have forgotten about
Finish
Southern Sky RAAF decals with Ventura Serials
Tamiya AS-12 paint with AK Interactive Polished aluminium cowls
---
Detail Photos
---
There is a build thread for this model in the forums.
© Eric Galliers 2016
This article was published on Thursday, July 07 2016; Last modified on Thursday, July 07 2016