Eduard 1/32 Bf 109E
By Christos Papadopoulos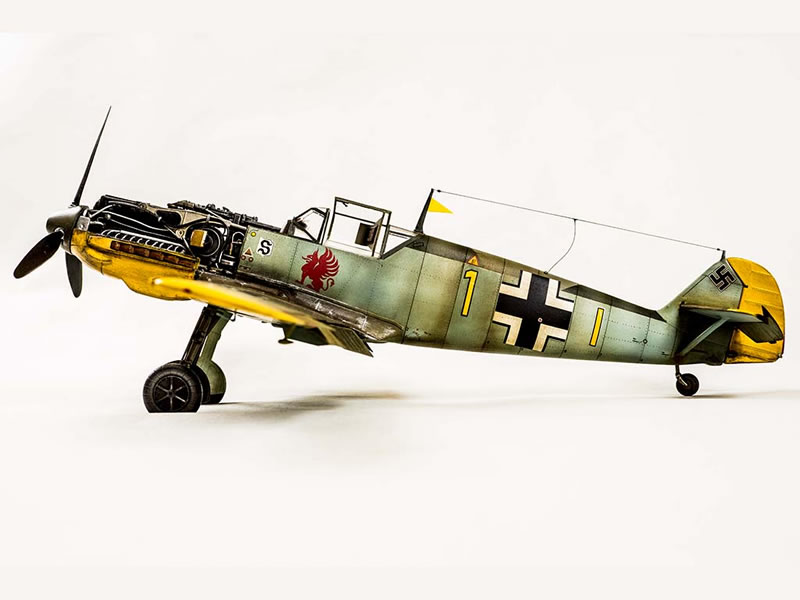 The Messerschmitt Bf 109E was the aircraft of the Luftwaffe who picked up the brunt of the war during the first two years of the war, almost all fronts of Europe. Did the DB 601A engine of 1.100 hp with fuel injection system that allowed the easy transition from straight flight without stopping and not had the Spitfire and Hurricane. It had a maximum speed of 570 km / h, while the 400 fuel daylight could fights over 1 hour with maximum power. The armament consisted of four MG 17 and later two MG-FF of 20mm wing and two MG 17 in the engine cover. The kit of the Czech company (Cod3002) offers everything for a comprehensive manufacturing. Excellent detail, right engine photo-etched set, ready masks for canopies. Our aircraft construction represents the Bf 109E-3 Yellow 1 of Staffelkapitan Oblt. Gerhard Schopfel of 9 / JG 26 during the battle of England.
Construction
Once equipped with the signal tab No. 32 028 of Techmod, we started our manufacture of the cockpit, where there struggled since photo-etched interior set that provides the kit enables a proper construction of the interior. The entire cockpit stained with H-70 RLM 02 Grau of Gunze. We continued with the engine, to which we added some piping wirings artistry wire, rods and details, always with the help of photos of the real DB 601, wanting to get to a correct result.The engine stained with X-1 Black of Tamiya and white A on the engine head (which indicates the engine of the first block output from the Augsburg plant) constructed by white decal film sealed with Gloss Cote varnish Humbrol. The motor is placed to the shaft and was the construction of the aircraft without implementation problems.
Painting/Markings/Finish
The aircraft bore the classic Splinter variant RLM71 / 02/65, in addition to the wingtips, engine covers, steering wheel, the RLM 04 Gelb, which was painted using paper tape. First sprayed with Humbrol No. 1 primer to later paint with Lifecolor colors and the following codes: UA 052 RLM71, UA 061 RLM 65, UA 071 RLM 02, while the yellow used the UA 140 RLM 04. The landing legs and the nests of legs were stained with H-70 RLM 02 of Gunze, while nicely elastic kit with XF-63 Grey of Tamiya. The distinctive triangular flag on the antenna of the fuselage was constructed from plastic was painted yellow.From fishing line became the antenna wire and red fuses were added to the wheels. Enlightenment were in almost all modules, while the soot exhaust were made with hagiography powder. Decals Techmod implemented the amazing and sealed with H20 Flat Clear varnish of Gunze and was wash with Raw Umber of Winsor Newton.In the end the aircraft was dusted with Pigments MIG European Dust and Desert Dust hue, largely because the aircraft was attempting to dirt airstrip.
---
© Christos Papadopoulos 2016
This article was published on Saturday, July 23 2016; Last modified on Saturday, July 23 2016