Revell 1/32 Junkers Ju 88A-1 Dio with Drum & Oil Cart
By Bryan Moeller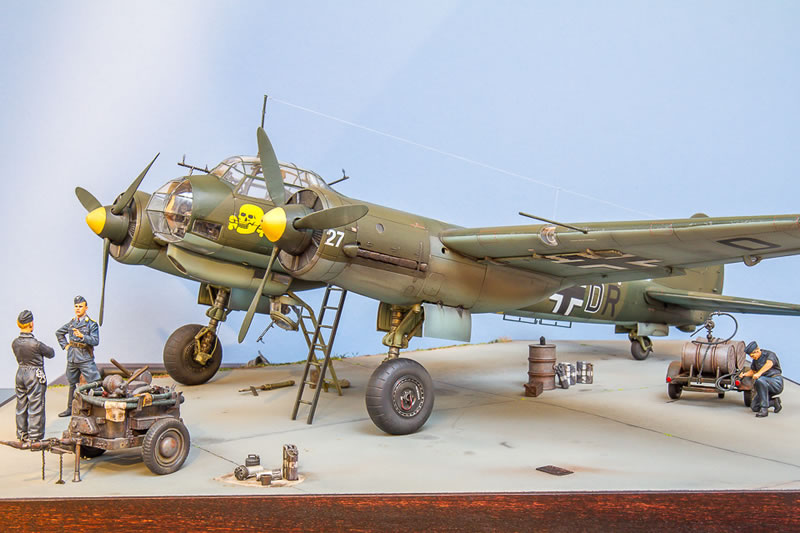 I finally finished my first diorama after returning to the hobby after a very long 30-year hiatus. Have to say I really enjoyed this build. The excellent and detailed Revell kit and the additional supporting diorama elements completed my goal of gaining back some of my techniques while learning a few new ones. Choosing these various elements allowed me to try PE and full resin kits for the first time, new weathering techniques like the hair spray method, and products to simulate the tarmac.
If anyone was at the recent 2016 IPMS National Conference in Columbia, SC you may recognize it. There were some great models and dioramas there. I am looking forward to the next one.
The following are the specs of the build.
Aircraft
1/32nd Scale Revell Junkers JU88 A-1.
CMK Resin Cockpit Seats (Part No. CMQ32105).
Eduard PE interior and exterior parts set for 1/32 Revell JU88A-1.
Master Models machine brass turned MG barrels and etched sights (top guns only) (Part No. MASAM32013).
Camo painted with Tamiya Acrylics & weathered with Mig Ammo Enamels, W&N Oils, Pastels, & Silver Pensicolor Pencil. Testors Dullcoat for final seal.
Ladder Entering Plane: Scratch Built using Plastruct and Spare PE Parts (based on photos).
Antenna: EZ Line with Model Master Clear Parts Cement for Capacitors (painted white).
Support Vehicles
1/32nd Scale Verlinden Resin Drum Cart
1/32nd Scale Signifier Resin Oil Cart
Both resin kits painted with Automotive Rust Colored Primer, AK Interactive Chipping Fluid then Tamiya Base Paints (used Hairspray Method).
Above was followed by Rust Colored Mig Pigments & W&N Oils.
Fresh Oil Stains were created using a mixture of Tamiya Smoke & Clear Blue.
Figures and Accessories
Pilot & Lead Groundcrew Member (with arms crossed): Wings Cockpit Resin Figures (highly recommended with excellent detail).
Kneeling Groundcrew Member: Verlinden Luftwaffe Repair Station (Part No. 2774).
Accessories: The above kit contained many of the used accessories, along with spare PE Parts, Plastruct Ladder, & Parts Bin
Figures were painted using Vallejo Acrylics for Base Coat & Blended with W&N Oils. Accessories were painted using a mixture of MM Enamels and Tamiya Airbrushing. 5 Gallon Cans were painted similar to the drum and oil carts using the hairspray method. 55-Gallon Drums used a mixture of Tamiya paints with sponges to dab on random patterns.
Base
Plywood and Picture Frame Built up with Styrofoam followed by Foam Board for Taxiway Area. Elevated areas were boxed in with thin basswood.
Taxiway Area created by spreading out Woodland Scenic Smooth It and painting it with Tamiya Diorama Texture Paint and airbrushing various shades of Tamiya grays to browns to simulate weathered concrete.
Concrete stains created using combination of acrylic, enamel and oil washes.
Ground covered areas are celluclay mixed with various grades of sand and static grass. Area was then painted using both Tamiya Acrylics and MM Enamel Paints.
Static Grass dry-brushed with various shades of MM Enamel Green to yellow. Additional vegetation added from Scenic Factory.
---
© Bryan Moeller 2016
This article was published on Wednesday, August 24 2016; Last modified on Wednesday, August 24 2016