Academy Hornet
By Rob Colvin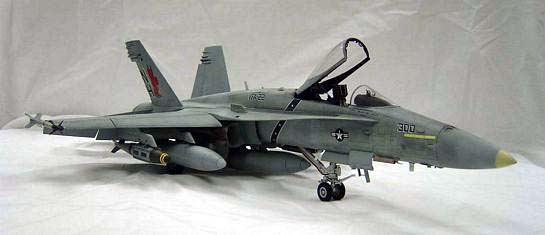 I used the Cutting edge interior on this beast. That was the only after market used Careful with the resin insert that fits into the clear part. The part fits pretty good with a little work, but it makes it to heavy for the kit extension rod to hold by it self. Mine is super glued to it. If I use this set again, I will drill a hole in the resin part and insert brass, then drill a mounting hole in the fuselage were the clear part mounts.
Two Bobs decals, well kind of. The blue bands on my sample were a little deficient in length. I painted the blue, used white pinstripe decal for the white, cut the stars out of a 48th A-4 sheet I noticed at the Hobby shop(thank goodness), and the hair like red trim is from the two Bobs sheet. Be careful here. The red stripe will be a little long on the bottom section. Cut the excess and save it in the water bowl. You will need it when you apply the top red stripe. It is two short.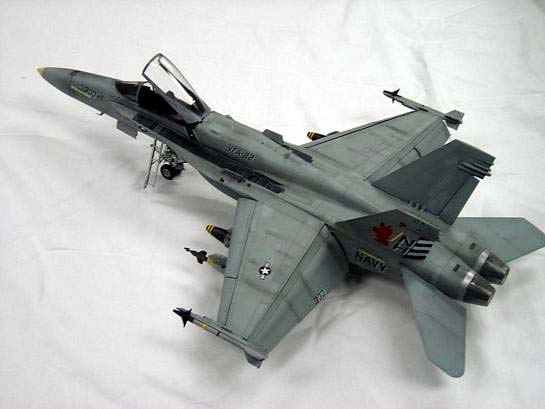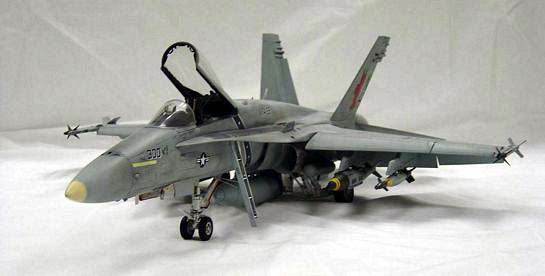 Load out is the switch tank con fig. A long search of current load outs yielded this one. I wanted a heavy look. The 500lb GBU 12 was scratch built. As soon as I finished the bomb, a set came out from Black box. Hmmm, like life, a day late and a dollar short.
The kit... IT was a pleasure to build, one of the single best fitting models ever. I think it might be one of the few kits that gets close to its price tag. I am looking forward to the next one. Kit decals were used on the walk ways and the weapons. They worked pretty darn good too. I solve-a-setted them with no problems. The rubber tires have not melted the plastic hubs, and mine sat that way for 6 months. Although before the final assembly I put a water based white paint to act as a barrier. No weapons needed for this kit. It has most of that spectrum covered, except a few odd and end things.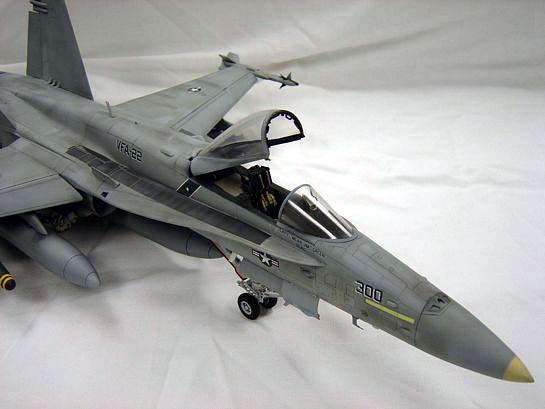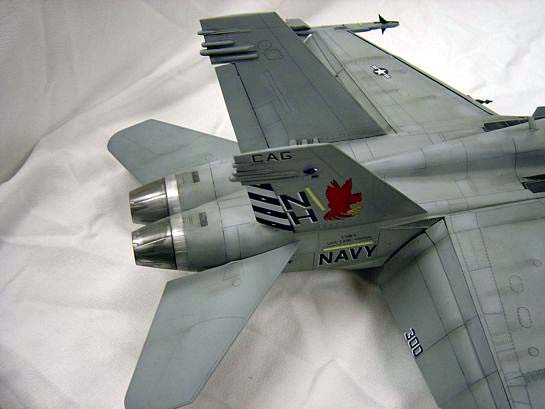 I would recommend this kit to any average modeler. You are not going to build her quick. The fastest I have seen, or heard about was about 50 hours. Take your time, build each section as its own little model, and pay very very close attention to the instructions. That includes all the side notations. There are so many options you can miss something in a hurry.
© Rob Colvin
This article was published on Wednesday, July 20 2011; Last modified on Saturday, February 04 2017