Italeri 1/32 Mirage IIICJ - 101st Tayeset of the Ha'Avir
By Andrew Doppel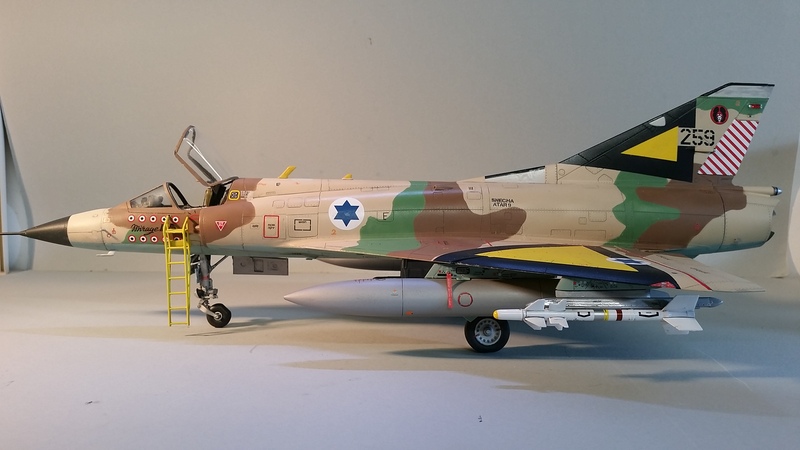 Italeri 1/32 Mirage IIIC/CJ of the 101st Tayeset of Ha'Avir.
I don't know much about this particular jet although it has 10 kills but I have been recently informed that it ended up with 12-13 before it was sold to Argentina. It has now been re-acquired by the Israeli AF for a museum with the kill markings still under the Argentinian paintwork. I read that there is some conjecture as to whether the black and yellow Id markings were or were not applied at some stage prior to being sold. I have also read that it started life as serial 159 and ended up with serial 459 just before it was sold.
Besides an instrument panel courtesy of Eric (Thanks again) this was built OOB except instead of doing the early natural metal finsih scheme I decided to camouflage it and add the yellow and black triangles which if you weren't aware were painted on so it was easier to id as Israeli and not a Syrian Mirage flying out of Egypt, whose scheme was very similar.
---
© Andrew Doppel 2016
This article was published on Friday, September 30 2016; Last modified on Friday, September 30 2016