Bronco's 1/35 Fieseler Fi-103s
By Gino Dykstra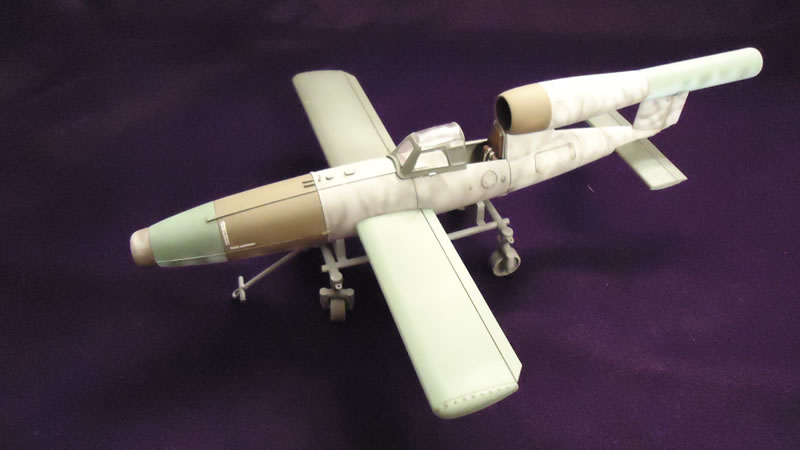 Some time ago, Bronco Models released a full set of Fieseler Fi 103s (the ubiquitous V-1 buzz bomb) - not only the famous unmanned missile itself, but the proposed manned version as well as trainer. As a person with a limited display space, I took to these immediately, especially since I've always been interested in both the development of the U.S. Missile program and in "desperation engineering", to coin a phrase.
The Bronco kits, although not particularly cheap, are excellent reproductions with great detail. Despite their small size, they're also great platforms to do some creative airbrushing, as they were assembled from parts sent piecemeal from various factories, making a patchwork quilt look to the final products. I indulged in this with both the standard V-1 and the manned version, as both of these would be considered "one shot weapons". However, the trainer was another story. Presumably, this would have been used over and over again to train unfortunate pilots. Therefore, I painted this with that in mind, including the German "high viz" markings deployed by Fw 190Ds in the last stages of the war. Wouldn't do to shoot down their own trainers, after all.
For relatively small models, I found these immensely enjoyable to complete, and am quite satisfied with the results. I heartily recommend the kits for anyone interested in this bizarre facet of WW2 aviation history.
Standard V-1
---
Piloted Version
---
© Gino Dykstra 2016
This article was published on Friday, November 04 2016; Last modified on Friday, November 04 2016