Wingnut Wings 1/32 Albatros DVa, Jasta 71
By Karim Bibi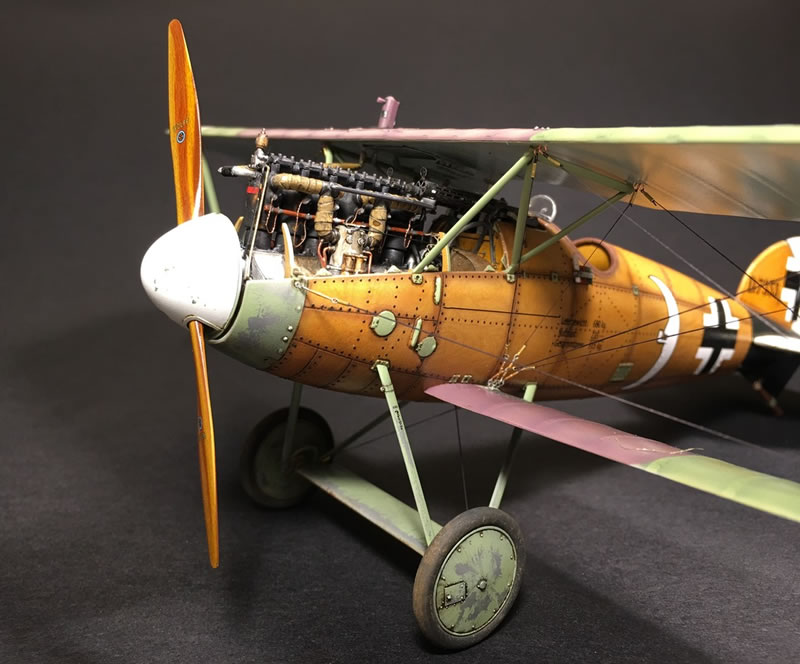 The Albatros is such a pleasure to build. The part fit is stellar, no sink marks, almost no filler needed.
I can't repeat enough how impressed I am by Wingnut Wings and their product offerings (so much so that since I finished the build I added two more Albatrosses to the exponentially growing Wingnut Wings stash!).
I finished the kit itself in Hans Joachim Hippel's Jasta 71 aircraft that had scored two victories by August 1918...
The choice itself was based on the fact it would give me the chance to do some woodworking, and I also liked the pipe smoking moon!
To the kit, I added the following extras (although the kit would still turn out a gem without any additions):
HGW superdetailing kit
Home cast epoxy seat padding
Taurus spark plugs
Gaspatch turnbuckles
Uschi woodgrain decals after the HGW woodgrain decals disintegrated on me! (Knotless pale and rich UVDR decals)
MicroMark resin rivets
Home made custom paint stencils (courtesy of my Silhouette cameo)
Master brass barrels for the Spandaus
Sundries:
Modelkasten rigging thread for internals
EZline fine and medium charcoal and black for the exterior rigging
Albion tubing different OD/IDs
Electrical wiring for the eyelets and all the magnetos/spark wiring
AK worn effects/heavy chipping chipping fluids
some more stuff I cant recall!
Paints used were Tamiya and Gunze acrylics, AK rust color set for the exhaust, and Gunze Mr metal color buffable lacquers for the metallics. Weathering was done with FM clay washes, enamels by AK and oils by Abteilung. Pigments for the tires are AK too.
Some things I would do differently next Albatros build would be the to tone down the preshading on the wood panelling, and probably use more toned down resin rivets as the purists will note that that Albatros had flush nail heads and not positive rivets (I know I know, but it does look cool with the resin rivets showing under the decals!). A big thank you to Walther's Solvaset and Microsol/Microset for making the decals conform!
---
© Karim Bibi 2016
This article was published on Sunday, November 13 2016; Last modified on Friday, March 03 2017