Special Hobby 1/32 Hawker Tempest
By Terry Scott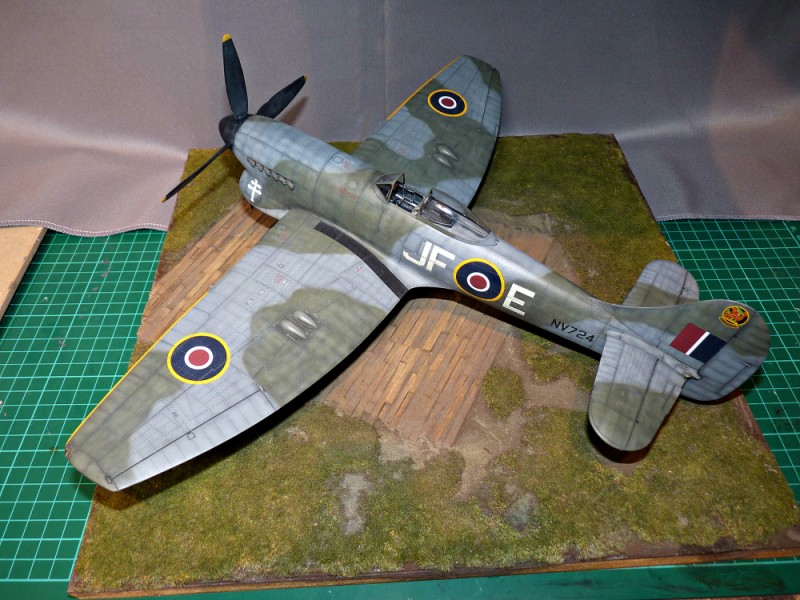 This model still has a little do on it but I reckon its complete enough to post - just a couple of aerials, pitot tube, pilot step, u/c bay detailing and a tad more scratched paintwork and it'll be finished.
The kit itself is of average quality, as good as Hobby Boss or trumpeter with some nice detailing, the clear parts could be a bit more blemish free and the instructions could certainly be laid out a bit better (they caught me out numerous times which caused me quite a bit aggro but that's probably more my fault than kit's, I should pay attention more closely!) The decals are first class though being very clear and crisp with good color register but they do tend to grip fairly quickly so plenty of water before allowing the decal to settle is paramount.
I seem to have a prob with me camera as I can't get the pics to look right so I've messed around with Photoscape to try and improve them, trouble is, it accentuates the rivets and panel lines, and obliterates the post shading somewhat.
---
Looking at those pics, the "patchwork" effect was bugging the hell out of me so, I bit the bullet, and, in selected areas, blew over the entire model in the base colors and toned down the rivet lines. It's not ideal but I reckon the result is a lot better than before. The nose cowlings were, I think, the worst area that needed attention.
---
I personally think that this one kit where the rivets really do work against the builder if they're going to do any form of dark color washing.
© Terry Scott 2016
This article was published on Friday, November 18 2016; Last modified on Friday, November 18 2016