Airfix 1/24 Messerschmitt Bf 109E
By Brian Cauchi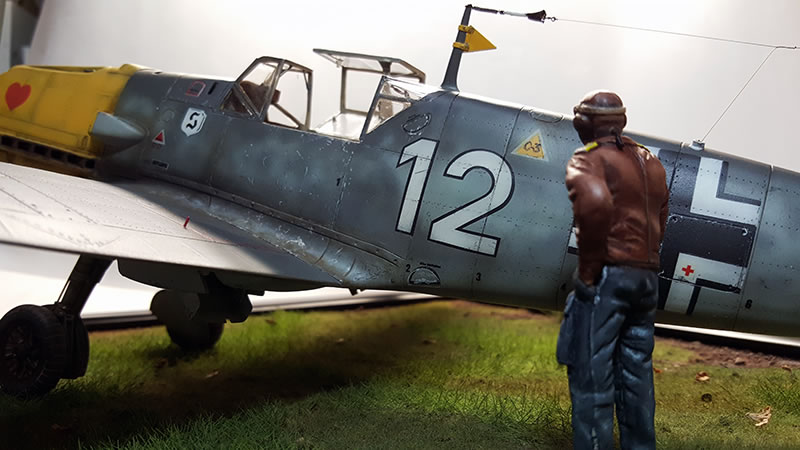 Cockpit
As usual work starts from the cockpit and this is mostly scratchbuilt including the aluminium rudder pedals. The seat is from the kit, seat belts are from Radu Brinzan and if I remember correctly the instruments are from airscale. All the rest, as you can see is scratchbuilt.
---
Corrections to the Cowl and Underside
The brick red is an automotive primer/filler from a make called Plasticote. I normally buy the grey one and it comes in a spray can. But this time I did not find the grey and that was the next best colour.
Process is as follows:
scribing of panel lines and other surface detail
Addition/correction of details and raised detail were necessary or missing
Marking of rivet lines on the model
fatigue skin effect (along rivet and panel lines) and sanding of surfaces
Primer and correction of mistakes
Sanding down of primer
re-marking of rivet lines
Riveting of the model
---
Wheel Well Details
The wheel well sides were made from Milliput and detailed with plastic bits and pieces. The aluminium warping looks very evident on the wings' underside.
---
Radiators and Leading Edge Slats
Radiators are corrected kit parts. Also detailed. Aluminium sheeting was mostly used. The leading edge slats are totally made of aluminium sheeting.
---
Undercarriage
The kit tyres were vinyl and so they were replaced with Milliput tyres. Replaced wheel doors with sheet aluminium. Hydraulic lines and other details added.
---
New Spinner
The spinner was pointed for the aircraft I want to depict, i.e "white 12" flown by Joachim Muncheberg. The tip was made from Milliput.
---
Painting
Then the masks generously supplied by Montex. I sent them photos of the actual aircraft and some colour profiles and they made me these fantastic masks. There are no decals at all on the model everything is sprayed on.
---
The Completed Model
This is the complete model. The pilot is scratchbuilt from Milliput except for the head and one of the hands which come from the kit pilot.
---
© Brian Cauchi 2016
This article was published on Tuesday, November 22 2016; Last modified on Tuesday, November 22 2016