Zoukei-Mura 1/32 AD-4 Skyraider
By John Bardwell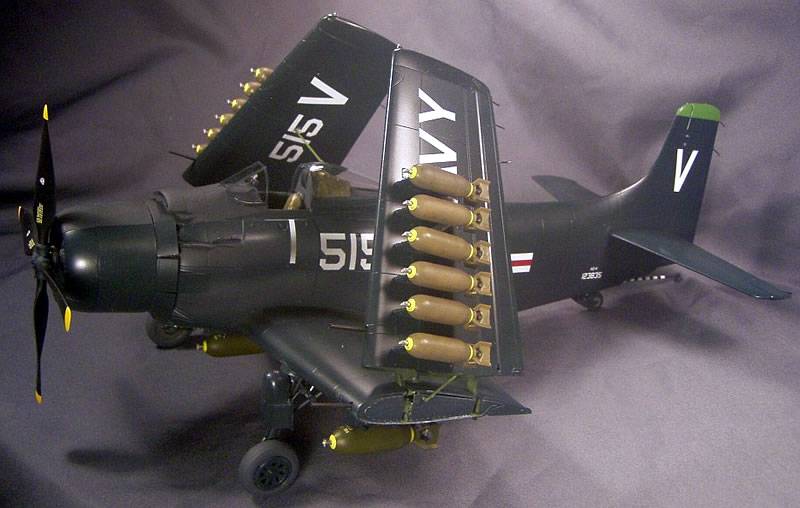 This kit started out as their Air Force A-1J but I wanted to model a blue Navy bird for the Korean War period. I did some horse trading with one of our forum members for the kit (can't remember who due to my CRS). Also, I needed to replace the inboard pylons which were of the later type as on the AD-6/7. I needed the earlier type as seen on the AD-4 and AD-4B. Well, once again I can't remember who here was nice enough to cast the pylons I needed but one of our guys, in England no less, came through for me and did a great job of it. I apologize for my CRS and would appreciate a note from you two guys to remind me who helped me out on the kit and the resin racks. Gettin' old SUCKS!
At any rate, it's finished. I used some of Harold's (AMS) resin in the cockpit but the rest is basically OOB although I used bombs from a ZM Weapons Set. Decals are from C.A.P. for a AD-4 based at Miramar and on the Philippine Sea in 1950. The exterior GSB is Humbrol HU24 ANA 623 GSB which I oversprayed with a light coat of Alclad semi-matt.
---
There is a build thread for this model in the forums.
© John Bardwell 2016
This article was published on Wednesday, December 28 2016; Last modified on Wednesday, December 28 2016