Trumpeter 1/32 F-105G "Wild Weasel"
By Daniel Sahling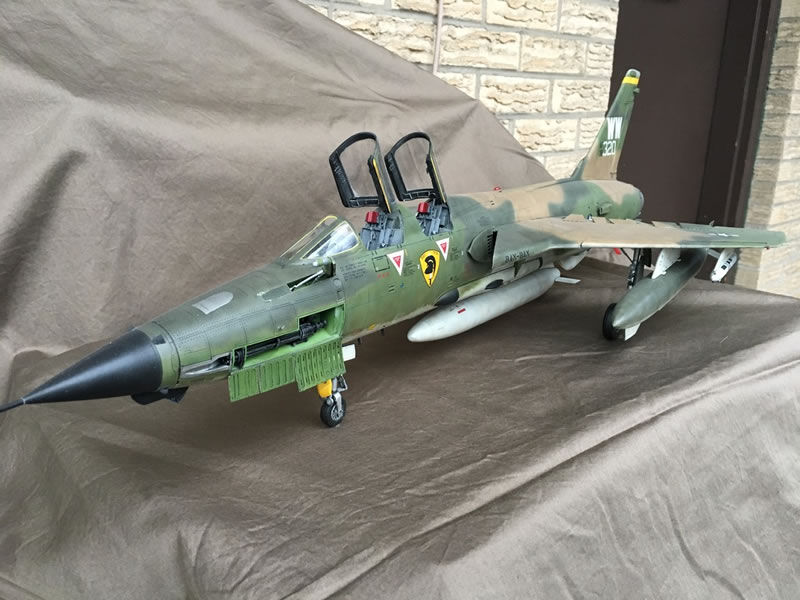 I thought I had sworn off Kitchen sink builds, but at the time I was reading another Dan Hampton Book "The Hunter Killers" about the creation of the Wild Weasel mission in Vietnam, so I decided to do this kit right. Personally I think either that or his book about Wild Weasel F-16s in the Iraq Wars would make for a great movie and I would definitely recommend this to those fellow aviation and history enthusiasts.
Back to the build, I used the 1/32 Trumpeter F-105G kit, Aires cockpit set, Eduard exterior and landing gear photoetch, the GT Resin upgrade set that includes the engine, radome, and vertical stabilizer, canopy frames, G-factor landing gear (a must from what I read, especially with all those huge resin pieces this thing is practically a scale version of the real thing (weight wise). I thought about getting some resin weapons, but in the end changed my mind, although I can't recall the name of the manufacturer there are some beautiful missiles out there of these first anti-radar weapons. The cockpit set is a work of art, I had a little trouble fitting it with the back end not being totally flush with the upper fuselage but it was good enough for me, but that was me running a little low on patience no fault of the resin.
I often try to incorporate some new techniques, tools, and material into each of my builds. The lacquer fumes have been killing me, so for this one I tried the Mr Hobby acrylics, and they work great! Very similar to Tamiya acrylics. I did my usual very fine and subtle mottling and weathering of the paint colors, an oil wash, I got a chance to really experiment with oil and fluid streaking on the underside using oil paints and makeup sponges using oil paints which was fun. I sometimes like to do a made-up plane in my modeling, other times I like to use reference photos and try and recreate the paint job as best I can.
Turns out this particular plane had a few SAM kills, but also received several repaints (including the one in the museum) so finding accurate reference photos was really hard and I'm not sure if all the photos were of the same paint job. Nevertheless I tried to recreate it as accurately as I thought I could. I had thought of weathering it up a bit, but all the photos of it and other F-105s in theatre showed them pretty well-maintained, so I took a little artistic license in the streaking and grime for the underside. This thing is huge I couldn't fit most of it into one photo without standing really far away! Apparently it's as long as a B-17 bomber; I think?, with a very powerful engine it was fast and I believe had pretty good acceleration, but man I can see how this thing just couldn't turn, small wing... think of all the momentum involved and to be up against SAMs... It at least makes me appreciate the balls it would have taken to fly this thing in this type of mission. So to any and all weasel pilots out there (past and present) I raise a glass to you!
---
© Daniel Sahling 2017
This article was published on Thursday, February 16 2017; Last modified on Thursday, February 16 2017