Tamiya 1/32 D.H.98 Mosquito
By Peter Willstein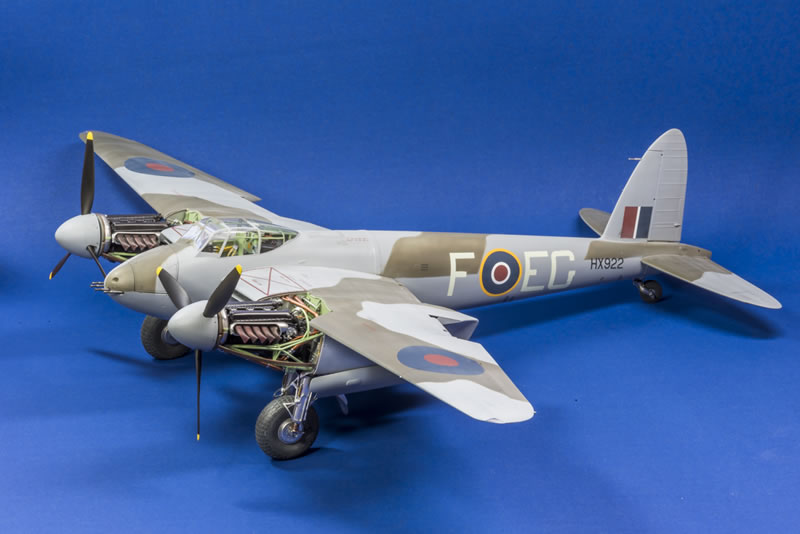 It all started out looking for a good project for my first contest in 30 plus years, I thought the Mossie would be a perfect candidate and I would be entering her in the Box Stock Category, so all the AM purchases would have to wait for a future build down the road. What can I say: Tamiya just keeps raising the bar and having built almost every one of Papa Tamiya's WWII kits, the Mossie is on a level by herself. Detail abounds and at times, maybe a bit too much as some detail will not be seen after completion. A number of choices need to be decided upon on the outset, as three different aircraft are offered; all of the same version. Decisions on cowlings on or off, bomb bay and Hispano bays open or closed, flaps up or down, machine gun bay open or closed and a few others I can't recall right now. Except for the flaps and bomb bays, all the cowl panels are removable but I find it's easier to build with a plan of open or closed, as they just don't work well for me making the parts removable.
I struggled with the interior color: RAF Interior Green and wound up mixing my own, as Tamiya's recommendation seemed a bit off. Exterior colors drove me crazy, as Tamiya colors just didn't look right. Anthony came to the rescue in giving me an original color chip from a Mossie restoration and I matched it as close as I could. I used MRP Lacquers Paints for the first time for the exterior colors and for me, they are just incredible and now my go to paint. When I quickly lost one of the PE flap hing parts, Carl fired one off ASAP. Thanks guys, you were lifesavers for sure.
Kit decals and masks…typical Tamiya…come on Papa Tamiya, with what the kit costs and the superb quality, there needs to be a major improvement in the decals and lets start laser cutting the paint masks, as it's more work cutting them out then making your own.
Problems and blunders…all of my own making. Lessons learned…be careful and look before doing. And THANK YOU all for your help, guidance and information during the build.
Absolutely a brilliant and more then highly recommended.
---
© Peter Willstein 2017
This article was published on Tuesday, February 21 2017; Last modified on Tuesday, February 21 2017