Hasegawa 1/32 Bf 109F-4 "Hans-Joachim Marseille"
By Daniel Sahling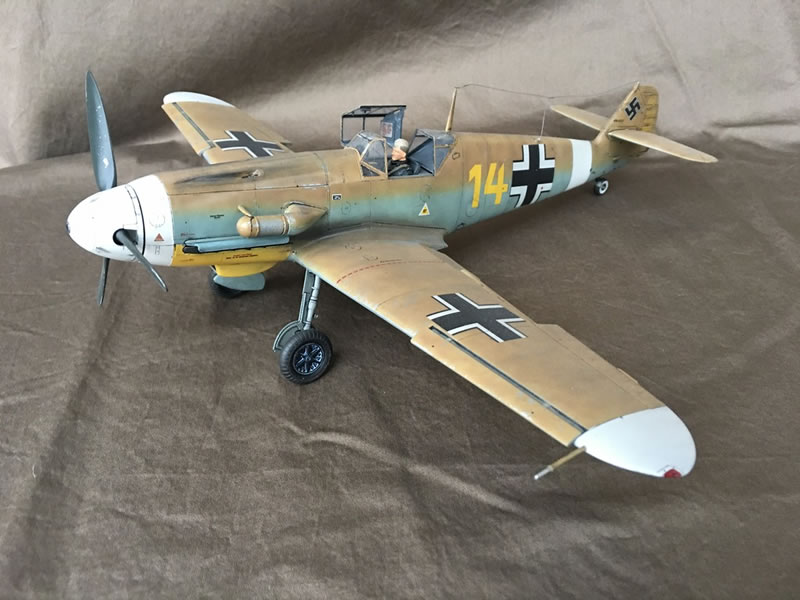 This is the 1/32 Hasegawa kit, I believe its a new tool and is exceptionally well done. I would say one of the finer engineered kits that required minimal and fairly easing sanding and filling, these WWII planes are nice in that in most cases they tend to build up a little faster for me than the jets do. The fumes from the lacquer paints were just getting too much for me even with the exhaust fan, so I only use it briefly for priming jobs. So I switched to Model Master acrylics again, I used a combination of their thinner and a little Vallejo airbrush flow improver. Since this damn climate is so dry I've always had issues with acrylics and drying issues at the needle/nozzle. I think it was the new formulation? At least the bottle was a different design, but in combination with that Vallejo stuff made it spray MUCH better than my previous experience with other acrylics. Maybe it was my gloss coating, but I had some difficulty with the decals being a little "sticky". This made it hard to move them around once they were placed, but nothing unworkable.
I got the idea for this after reading Dan Hampton's Book "Lords of the Sky" about the history of fighter and wild weasel aircraft. He has a really interesting part dedicated to the story of Hans-Joachim Marseille and the Bf 109F-4 (apparently the F version was the sportiest, and I think best performing versions of the Bf 109? I'm no expert though). I also used the Tamiya weathering set, which was kind of fun and easy to add weathering. I thought I'd try something new with it and would definitely recommend it to others too.
---
© Daniel Sahling 2017
This article was published on Friday, February 24 2017; Last modified on Friday, February 24 2017