Trumpeter 1/32 A-6A Intruder VA-95 "Green Lizards"
By Daniel Sahling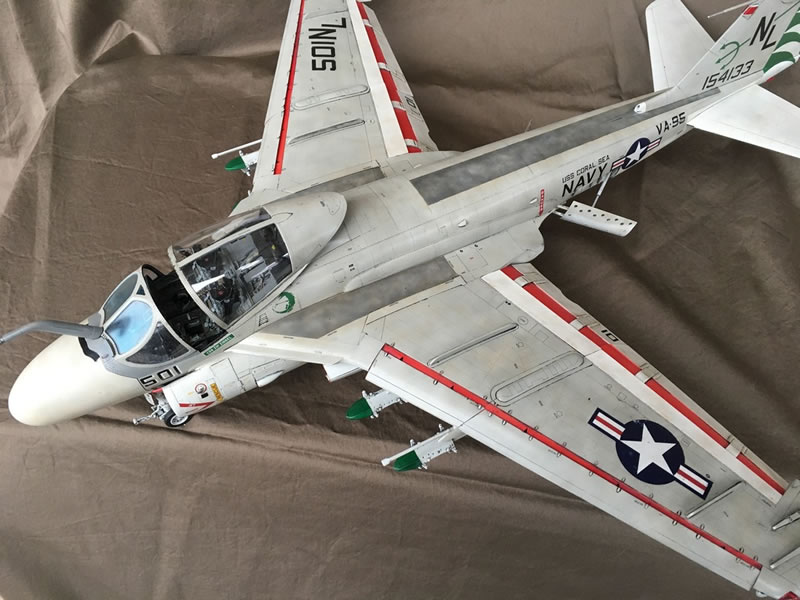 The kit is the Trumpeter 1/32 A-6A Intruder, my second take at this as I had a really good time with the A-6E about a year or so ago. The engineering and fit of this kit OOB is fantastic, Trumpeter really got there A team together for this one.
Despite the cockpit being perfectly suitable OOB, I got case of "AMS" and I used the Avionix resin cockpit which offered some nice detail and the True details ejection seats, some of the Eduard photo etch, AOA decals (second time I used their decals and they're probably some of the best decals both to look at, fit, and work with, I'd highly recommend their products to fellow modelers).
I used Model Master acrylics since I had some good experience with them in the past couple builds, and the Light Gull Grey sprayed beautifully, but that insignia white was a bad girl to work with, can anyone tell me, does using a slightly bigger nozzle like a .4mm makes working with their acrylic white easier? I used some AK Interactive chipping fluid for some parts of the canopy mechanism revealing some yellow primer underneath (I have no idea if its actually there, and I don't care it looks cool. I was reading Stephen Coonts novel "Flight of the Intruder" for some inspiration and decided to do a lightly weathered A-6A as I figured since this plane was relatively new I didn't want to overdo it. I like using a palette of colors to "mottle" and discolor some of the paint a little to keep it interesting for the eye to look at.
I know the airbrakes on the fuselage of the A-6 were disabled and I think in some cases were riveted shut. However, I wanted to show some extra detail. Even if they were disabled, does anyone know if were possible to open them up for some kind of inspection purpose?
I wanted to try something new for the walkways since I've never liked the way mine have come out in the past, so I also got ahold of some textured spray paint to use for the walkways and good thing I had this thing well covered and masked cause that stuff comes out fast! I decided to forego ordnance and just didn't want to fork over a lot of cash for fancy resin bombs, although there are some beautiful ones out there. I also added some lead wire for brake lines and such on the landing gear which is always a fairly easy detail to do that really gives a nice level of realism. I used to be a flight instructor in prop aircraft but don't fly anymore. However I always found something appealing about an aircraft that flies LOW, is relatively fast and nimble for its size, at night, in bad weather, with no self protection, with a sole job to drop its load DEEP in enemy territory, hear that ladies? I bet you A-6 guys got some serious tail in their day.
---
© Daniel Sahling 2017
This article was published on Tuesday, March 14 2017; Last modified on Tuesday, March 14 2017