Trumpeter 1/32 F4F-3 Wildcat
By Joel Willstein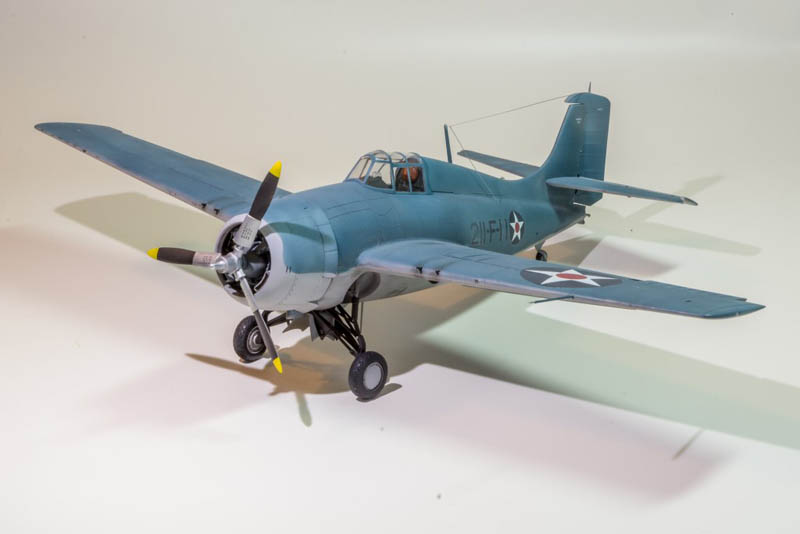 I've finished the Trumpeter F4F-3, which is only the 2nd 1/32 scale build I've ever built. 1/32 surely doesn't let you hide small errors, goofs, and just laziness the way that 1/48 scale can at times, and thus I did fall into some bad building habits.
The major issue for me was poor overall pre-decaling prep work, namely not cutting out every single letter, number, as well as trimming every drop of clear film right back to the color,the way I use to do back in the 1970s. And I was a 1/72 scaler back then. In 1/48 scale I rarely had any issues, with the Wildcat using Yellow Wing decals on top of two heavy gloss and polished coats of Testors Glosscoat, I had a fair amount of silvering issues. I used my standard procedure of Micro set, Micro Sol, and finally Solvaset. I'm sure that the silvering was my fault, not the decals. Starting with my next build I'm going back to cutting out every single decal and removing as much clear film as I can. I'm also going to try masks down the road.
I did have issues with the Yellow Wings decals conforming to compound curves. Maybe I should have used even a stronger set of solutions, namely Mr. Mark Set & Mr. Mark Sol.
I did find the move to 1/32 easier to see small parts, and to detail to a greater degree where I wanted to. What didn't improve my was complete lack of close up depth of field, as I'm legally blind in the left eye. Hense, painting the Antenna wires without getting paint on the mast or fuselage would have been for me nearly impossible. Many goofs and errors I had to do over a few times before I could move on to the next step. But one eye is still way better then being blind in both eyes. Unfortunately, I'm facing that down the road as well.
So here's a few pictures of the finished F4F-3 as she was on Dec. 6, 1941 on Wake Island, the day before the attack.
---
© Joel Willstein 2017
This article was published on Wednesday, May 03 2017; Last modified on Wednesday, May 03 2017