Tamiya 1/32 Tamiya F4U-1 "Arkansas Traveler"
By Karim Bibi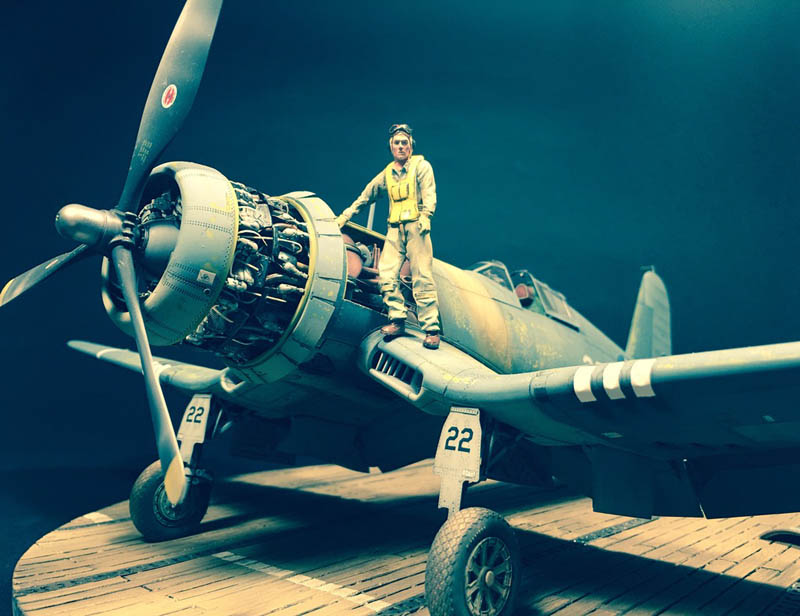 This is Tamiya's offering of the F4U-1 Corsair albeit with a lot of am stuff thrown at it.
I built this kit as a gift for my good friend Jaroslav who's a forum member here with us (Jarda_Hajecek). I decided that I would take my time in building him a kit that would be good enough to sit in his display cabinet and here it is.
We also have agreed for me to fly over to Prague in September this year to attend Eduard's E-Day 2017 which is an annual exhibition and meeting point for international modelers and the Czech Republic's IPMS Championship. So I thought, hey why not put the model up in 32nd category in the competition and Jaroslav said yup its a good idea. This will be my first entry in an international championship, so I am hoping that the model will fair well if we manage to get it on the competitor's list...otherwise I'll be more than happy to have it displayed and to spend a couple of days among friends and modelers!
On to the model itself...
It is Tamiya's offering of the venerable F4U-1 Birdcage corsair, which is finished as Arkansas Traveler. There is nothing I can add to what has already been said about the kit, it is sublime.
To the kit I have added the following:
Eduard BigSin which includes complete engine, wheels and cockpit
HGW fabric harness and HGW wet transfer for the F4U-1
Grey Matter Figures accessory bay
Montex supermask for Arkansas Traveler (more on that later)
As reference I have used M Nicholls' How to Build Tamiya's F4U-1 Corsair, Bruno Pautigny's Corsair trente ans de flibuste, Kagero's Corsair Volume 2, and the Internet.
---
Now back to the Montex set, and more specifically to Arkansas Traveler. I have looked everywhere for pictures of this specific airframe and the only one I was able to come up with was the one with the pilot standing on the wing. Fellow members here opened up a thread regarding more information on this specific airframe when I was at the finishing stages of the build so it turned out that more pictures of it exist (as always) and I might have botched the paint job in regards to accuracy. I just went with what I had at the time so I am pretty pleased with how she turned out albeit she might not be 100% accurate in terms of paint scheme or weathering. I am happy.
All paints were Tamiya acrylics, mixed and matched to suit.
I might have been a bit strong-handed on the weathering but this is what I feel this aircraft might have looked like after a couple of months operating in that environment. it might not be to everyone's taste, specially the wing chipping but it was more an exercise on weathering and planning the steps rather than making it look like the actual Arkansas Traveler airframe. I did try to add all the specific weathering patterns I could see in the only photo I had pertaining to A.T, but also added what might have been a possibility under the operating theatre.
The base is Zoukei-Mura's display base modified and weathered for the subject.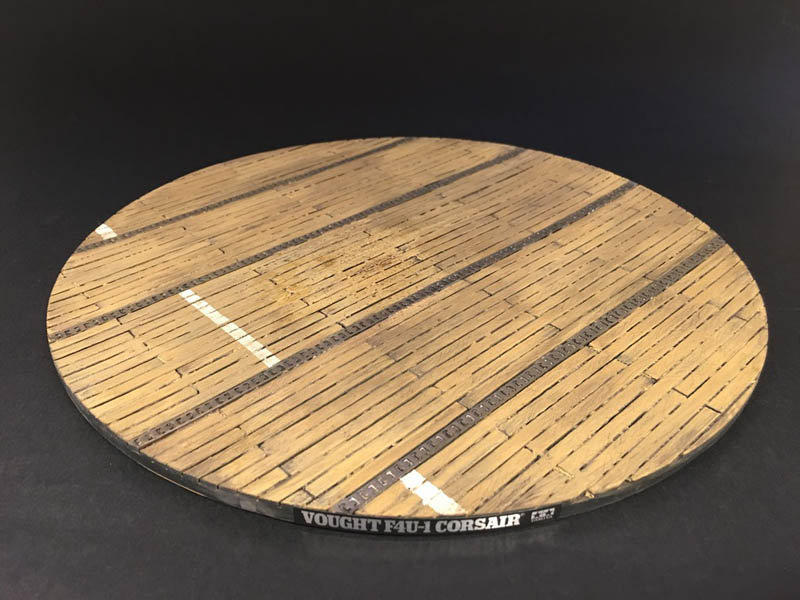 I modified the pilot by chopping him up to bits and wiring the arms, legs and feet in order to pose him to look the closest possible to the photo I had.
---
For weathering I have pulled out all the tricks from my top hat!
Chipping was done with AK products, I used Abteilung oils for dot filtering, oils for filters on the fabric surfaces, oils for grime and streaks and some shading. Flory Models clay washes. Salt chipping. AK pigments. Watercolour pencils for spot chipping. And more stuff I can't specifically remember at present.
Antenna is EZ-Line and the brass tubing is Albion Alloys tubing cut to size.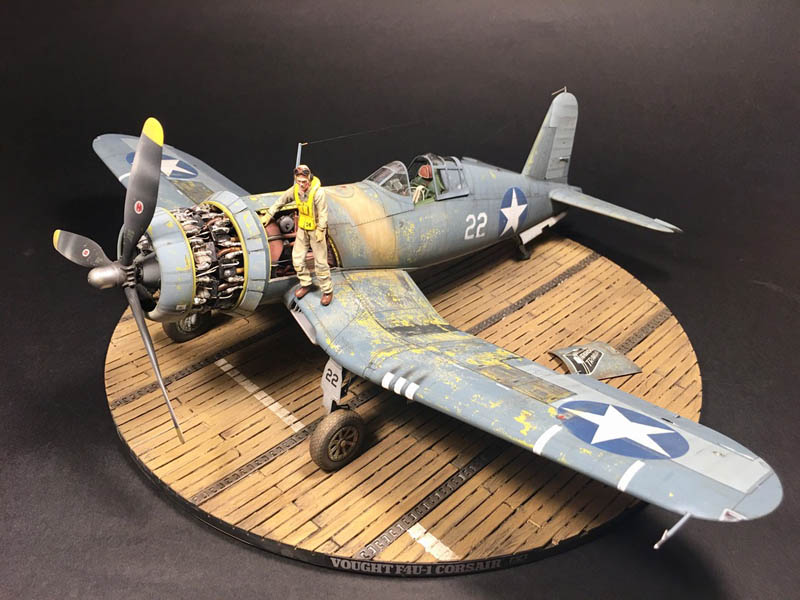 ---
© Karim Bibi 2017
This article was published on Sunday, May 28 2017; Last modified on Sunday, May 28 2017