Hasegawa 1/32 Fw 190A-5 "White 1"
By Simon Turnock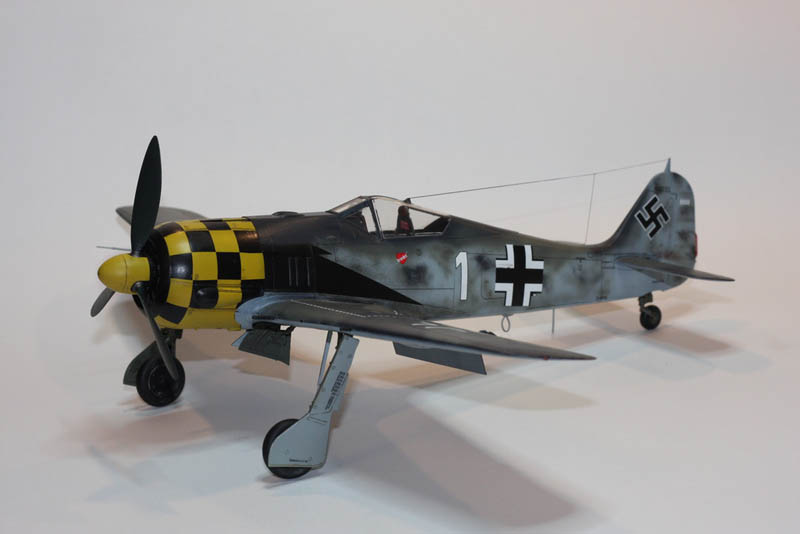 I learned a lot on this build. I use Master Model guns and pitot tube, they are great looking and fairly easy to use (as long as you get everything in straight before the CA sets). It was also my first time using EagleCals. I used them with Microsol and Microset, and I'm thinking I did something wrong as they began to eat through the paint, when I was putting the no step dashes down. Needless to say, the decals got trashed so I masked it off and painted them on (they're a bit too thick). The Eagle Cal decals for the cowling went down very well for me, I only need to touch up a few with paint after the fact. I put all decals on after a few coats of Testors Laquer Glossy Clear (worked really well, I was out of the Tamiya X-22).
Construction was pretty straight forward but I screwed up the left gear leg, it's angled too far forward. I also missed a few seams at the wing root, I'm still getting the hang of putty and sanding everything smooth. The cockpit was only okay painting wise, so I opted to have the canopy closed.
Painting. Well, this was interesting. I used Badger Stynlrenz black primer and it's excellent. Goes on great, smooth and doesn't pull up when it's masked. I tried to use Doogs' black basing technique for all but I think it only really turned out well on the bottom. The biggest issue I had was with the Vallejo Model Air colours I used. I used the Model Air RLMs (Upper 75/74, Lower 76) as per the EagleCals information but to me they just don't look correct. I'm not an experten by any means but they just look off. Finished up with the Testor gloss coat, then used Tamiya's panel liner (worked great).
I also used a few Mig pigments (black, earth) but I don't have the hang of them yet, so they are barely noticeable.
The other valuable lesson (read mistake) learned was to not partially unmask the canopy and then shoot the flat coat on. The lesson learned was that Testors Lacquer Airbrush cleaner takes off Tamiya Flat Clear with no issues what so ever.
Aerials are E-Z Line.
---
© Simon Turnock 2017
This article was published on Thursday, June 08 2017; Last modified on Thursday, June 08 2017