Wingnut Wings 1/32 Albatros D.Va (OAW)
By Larry Trout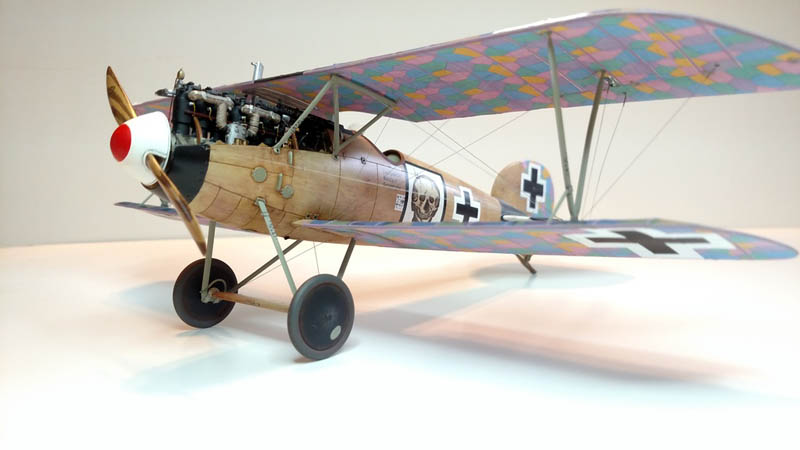 Presenting my 2nd Wingnut Wings build Albatros D.Va (OAW) in the markings Hans von Gossell of Jasta 71. Completed their Fokker DVII (Alb) a few months ago & had to have a go at the Albatros next.
Learned a few things I will do differently on my next Albatros build concerning decals & rigging. Will also use the white metal landing gear struts on the next one, as the kits L/G is very wobbly.
For the build I used the following aftermarket items:
Shapeways fuel tank & fuel valve
Taurus spark plugs, valves & lifter arms
Aviattic lozenge & Uschi woodgrain decals
Gaspatch Spandau machine guns
HGW seat belts
Barracuda Cast Intake Manifold
---
Rigging isn't perfect, my first try @ rigging a biplane. Used transparent thread colored with a silver sharpie for the rigging & micro brass tubing @ the ends to simulate the turnbuckles.
Added to the cockpit & engine, fuel, air, vacuum lines, spark plug wiring, interrupter cables, etc. Scratch built the interrupter mechanism on the upper rear of the engine, but can't be seen when completed, so I'm guessing this may be why WNW didn't mold it in the first place.
Weathered slightly using oil paints, pastels & washes. Very little done in this area.
---
© Larry Trout 2017
This article was published on Thursday, June 08 2017; Last modified on Thursday, June 08 2017