Hasegawa 1/32 "Really George" F-104C Starfighter
By Russell Bucy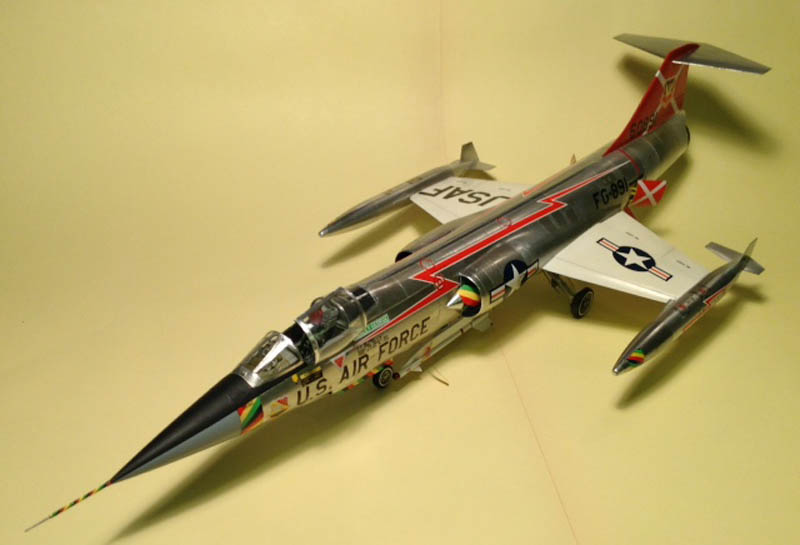 This is my Hasegawa 1/32 F-104C marked in Colonel George Laven's "hot rod" paint job.
History
Colonel George Laven was a WWII Ace who flew P-38s in the Pacific Theater. He later became the Commander of the 479th Tactical Fighter Wing at George Air Force Base, CA, which flew the Lockheed F104C Starfighter. The 479th TFW had 4 subordinate squadrons, each marked with stripes of a designated color--red, blue, green or yellow. When the 479th transitioned into the F-104C, Lockheed and Colonel Laven's Crew Chief had his F-104 painted in flashes comprised of all four squadron colors, with red fuselage lightning bolts, a red tail and airbrakes with white X's, and white wall tires! Since the 479th was based at George AFB, and commanded by George Laven, Laven's F-104C was nicknamed "Really George". It likely was the most colorful USAF F-104C that ever flew, and gained the ire of the Air Force brass for the flamboyant markings, but for awhile, it was the "hottest" looking hot rod in the skies.
The Kit
I really like Hasegawa's F-104C. It's old, but accurate in shape, with finely raised panel lines. It hasn't got the "bells and whistles" of Italeri's newer offering, but it also doesn't come with the $125++ price tag or the heavily engraved "trench" panel lines either. With some work Hasegawa's oldie is still a great kit. I like it so much I have two more in the kit stash. Others here on LSP have done some great features on how to foil this kit. I built mine about ten years ago, as my educator wife wanted something colorful and "fast looking" to hang from the ceiling of her classroom since her education theme was "where learning takes flight". So it hung there with thirty other scale aircraft from the Wright Flyer to the Space shuttle. This big flashy F-104C never failed to elicit comments from anyone that entered the classroom. It's the only model I kept from her room when she retired two years ago - the rest were given to students, but I couldn't part with this F-104C.
Modifications
Rebuilt cockpit with the instruments drilled out and replaced with Mike Grandt decals, and a scratchbuilt seat harness and oxygen system. Seatback cushion is formed from Milliput putty. Just a quick note on the early F-104C ejection seat - it went downwards through the floor, the pilot wearing special boots with a wire attached to each heel to "retract" his feet and legs into the seat during ejection! That must have been a shock!
All the small vents and intakes at the front of the fuselage where opened up for greater depth, and the position lights in the rear fuselage and wingtip tanks were drilled out from the inside and replaced with faceted crystals found in the jewelry section of my local Michael's.
The entire fuselage was "foiled" using kitchen aluminum foil, Nestle's Crunch foil wrappers (I'd saved these for many years), and in a few places some Bare Metal self adhesive foil, notably for the canopy framing and ejection seat panel at underside of the nose.
The wheel bay interior detail was sanded out and then "plumbed" with solder, steel and brass wire for hydraulic and brake lines.
A new pitot tube was turned from brass rod on my Dremel work station.
Kit decals, along with "donor" decals from another Hasegawa "International" F-104G kit were used for the stenciling. The "color flashes" for the wingtip tanks and pitot tube were cobbled together from painted decal paper, since the kit didn't come with those. All the decals were trimmed very close to the markings to eliminate decal film and placed individually using Solvaset - this was perhaps the most time consuming and tedious part of the build, as everything has to be lined up.
The painted sections of the aircraft interior and nose anti-glare panel are done in Model Master enamels, while the wingtip tanks were painted with Alclad Chrome. The wings had five coats of Testor's "square bottle" gloss white applied, sanding between coats with 0000 steel wool to get a smooth, glossy white finish, then given a final coat of 50/50 Testor's Glosscoat thinned with Testor's enamel thinner. The entire aircraft was oversprayed with Testor's Sealer for Metalizer to seal the decals to the foil and provide a protective coat. Even after 10 years of hanging in my wife's classroom, the finish has held up quite well, with no yellowing.
The GE J79 engine was detailed with fine wire, brass and aluminum tubing, electronics boxes from styrene stock, and telephone wire with the insulation cut and striped off at intervals to represent connectors and tie-downs. The engine support stand is from a Kinetic F86 kit. I scratchbuilt an extra combustion chamber and flame keeper for the interior of the model from styrene tube, keeping the kit version for the external display engine.
I added some aftermarket buckles in the cockpit and a few "remove before flight" tags from Verlinden.
---
Cconclusion
Other than what's mentioned above, everything else is out of the box. I understand Aires has released an interior for this kit, and I've acquired two Verlinden interiors for my unbuilt kits since I built this model, along with two of Eduard's J79 "tail feather" sets for my next Starfighter builds. It took about 100 hours to build this model, most of the time was spent on the cockpit, foiling, and carefully applying decals. Hasegawa came up with a goodies back in the '70s when this kit was released in the "Minicraft" boxing. It's been updated in several later releases, along with their F-104G. I think they are nice kits, despite being eclipsed by Italeri's more detailed and engraved panel offering, which has a few warts along with a rather hefty price tag. With some "elbow grease" and some aftermarket details, these old Hasegawa kits can still hold their own against the newcomer. I have two more in my stash, which will be modified to represent Chuck Yeager's NF-104, and a NASA Chase plane. Now that Italeri has released their new kit, you can pick up this oldie for as low as $25 which is a steal and some cheap fun for a 1/32 jet aircraft kit.
References
"Century Jets"; David Donald, General Editor, Airtime Publishing
"F-104 Starfighter in Action"#27; Lou Drendel, Squadron Publications
"F-104 Starfighter in Action" #135 (revised), Phillip Friddell; Squadron Publications
"Modeling Manual-Lockheed F-104 Starfighter"; Koku Fan Magazine
"The American Fighter Plane"; Ted & Amy Williams, Barnes & Noble Publishers
© Russell Bucy 2017
This article was published on Monday, July 24 2017; Last modified on Monday, July 24 2017