Roden 1/32 Fokker Triplanes
By Russell Bucy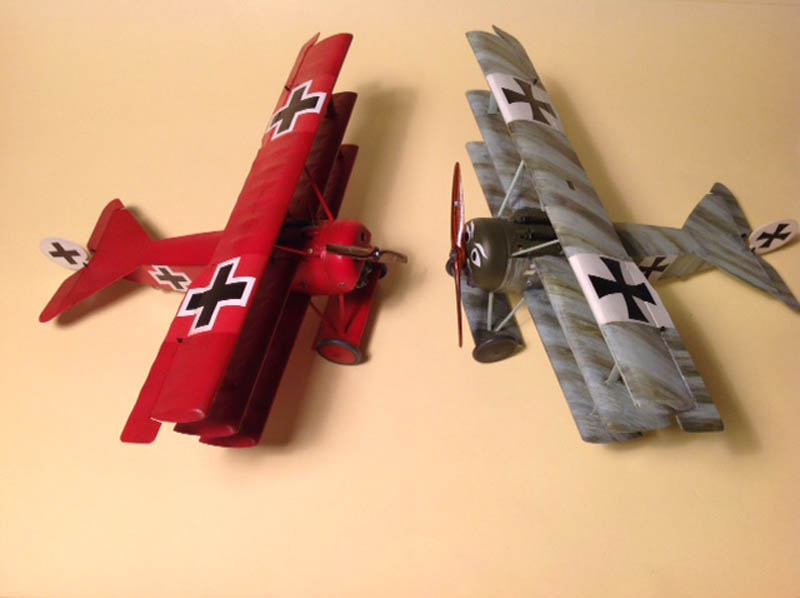 A Short History of Dreidecker Camouflage
The Fokker Dreidecker is likely the most famous aircraft of WWI, so it shouldn't need much of an introduction. The first five Fokker Triplanes were considered prototypes and were designated the Fokker "F1". The third and fourth F1s were given to Manfred Von Richthofen (F1 102/17) and Werner Voss (F1 103/17) who were Germany's top scoring Aces at the time, and good friends as well. These two F1s differed from the production Dreidecker 1s (Dr1) in that they had enlarged aileron balances, no lower wing skids, a slightly oval shaped rudder and the edges of the horizontal stabilizer were more curved into the fuselage. They also had a unique light blue "turqoiuse" painted fabric and olive drab streaking camouflage, which differed from the later olive and "cellulose linen" schemes of the production Dr1s. Richthofen flew a series of triplanes, his last being his famous all-red number 425/17. Voss only flew F1 103/17. The method for painting the olive "streaks" on the F1 and the later Dr1 consisted of a "single stroke" (that's what the Fokker paint shop called it) of a paint laden brush drawn diagonally across the upper surfaces, or top to bottom for vertical surfaces. The "single stroke" was supplemented at intervals by a "double" brush load of paint, creating an alternating pattern of light and dark streaks. According to contemporary reports, The F1s were described as blue-green, silver gray, or blue-grey in appearance when viewed at a distance. After his original F1 was lost while Richthofen was away, Richthofen flew a succession of different production Dr.1s with increasing amounts of red painted fuselage panels and wings, ending with Dr1 #425/17 which was completely red. This was the machine he was flying in April 1918 when he was shot down. Voss had a whimsical "Samurai face" painted on The cowling of his F1, and it's possible he had a yellow replacement rudder fitted too. There is a yellow rudder purportedly from Voss's F1 103/17 in the Imperial War Museum. What's known for sure is that Voss's original F1 rudder was white, but it might have been replaced at some point. Voss also replaced the Oberursal engine of his F1 with a Clerget engine from a downed Nieuport, as the Oberursal engine was considered inferior in quality. Richthofen's Dr1 425/17 was subsequently stripped of its fuselage and wing fabric by Australian troops and souvenir hunters after he was shot down, but small pieces exist in museums today.
The Kits
I like to build WWI aircraft because of the variety of colorful markings used, and I can't always make up my mind which color schemes to do, so on occasion I build two at a time! The Squadron Encore F1 kit was used for Voss's F1, and it contains the basic Roden Dr1 kit with lots of resin and PE add-ons and Cartograf decals to make it into Voss's F1. A basic Roden Dreidecker kit was used for Richtofen's Dr1. Roden's kits are very good, but there are some minor fit issues when joining the wings together and along the fuselage seams - nothing that can't be easily dealt with by a little putty and sandpaper.
Details
Voss's F1 103/17 has everything you need in the box, including the resin details including the engine, cowling, rudder and ailerons, and an Eduard photo etch set for the cockpit details and Spandau gun jackets. There's also a nice Resin figure of Voss, but I haven't gotten around to finishing him yet.
Richtofen's Dr1 425/17 is also right out of the "generic" Roden kit box, with the addition of an Eduard Photo etch set and Cutting Edge's' "The Barons Triplanes" decals, which have the hastily repainted flawed Balkan crosses for the lower wings. The only thing I added to the basic kit besides the decals was some scratchbuilt stitching along the bottom fuselage seam done with thin Evergreen strip. The Encore F1 kit includes this stitching as a PE part, but it's not present in the stock Roden Kit, or on the aftermarket Eduard PE set.
The one piece kit horizontal stabilizer has a wide "trough" running down the center of the top and underside which was not present on the real aircraft. I filled this with a corresponding piece of sheet styrene on the top side. In retrospect, I should have filled the underside too, as the stabilizer now has a tendency to "curl" slightly upward since the upper "trough" was filled but not the lower, and now the Evergreen styrene filler tends to pull the harder Roden plastic stabilizer surfaces upward.
Painting
The Baron's red Fokker was simple-all Tamiya red, except for the national marking panels and rudder. Supposedly, 425/17 was painted red at the factory for Richthofen, with white background and black Maltese crosses on the fuselage and wings. Later, the white panels and Maltese Crosses were exchanged for the new "Balkan cross" markings repainted in the field, and the data and serial numbers were given a slight overspray of red to subdue them somewhat. To replicate this, I painted the national insignia panels a paler shade of red by mixing it with Tamiya white. I also overpainted the serial and service data decals with a light misting of the original Tamiya red.
Voss's F1 paint scheme is overall Gunze Mr. Color sky blue lacquer to replicate the "turquoise" color of the original. The "metal" areas were painted Model Master olive, and background panels for the national markings were masked off and painted white, as the white background of the Cartograf decals in the Encore kit looked a little translucent to me. I then masked these panels for the application of the olive "streaking". I used a cut down fine toothed comb as "mask" to lightly airbrush "streaks" of Model Master olive drab over selected parts of the fuselage and wings. This was done using very thin paint at low air pressure to get a light pattern I could later follow with brush painted streaks. This kept me from "curving off" track while brush painting. I used Windsor & Newton's olive green oil paint, thinned with Model Master enamel thinner about 50/50 with a 1/2 inch fan shaped artist brush to create the streaks. I tried very hard to match the pattern of Voss's F1 "streaks" using period photos and the artwork from Kagero's excellent "Aces Aircraft in 3D" book on the Dr1 (this book has several 3D renderings and comes with a set of 3D glasses - under a bright desk lamp the drawings really do "jump off the page", and you'll notice details you can't always see in 2D). I set the model aside for a week to dry, after which I airbrushed a coat of Testor's Sealer for Metalizer, providing a base for the decals. After applying the decals, I gave the entire model a misted coat of Alclad "Light Sheen" clear to seal in everything.
Props were painted in Tamiya Deck Tan, with the laminations masked and oversprayed with Tamiya NATO Brown, then using Windsor & Newton brown dry brushed with a sponge across the propeller chord, not the length. The props were then given a coat of Tamiya clear orange. Engines were painted with Alclad Aluminum, Jet Exhaust, and Hot Transparent Blue on the valve end of the cylinders, with a wash of Model Master Burnt Umber.
---
Conclusion
These were fairly quick builds, taking me about 50 hours for both Fokkers, but about 5 hours of that time was spent replicating Voss's "streaked" camouflage. There's not much rigging involved with these kits, which makes them nice for beginning WWI aircraft modelers. I used the Encore kit decals for Voss's aircraft, but for the Baron's 425/17, I used the "Baron's Tripes" Eagle Editions set, which is both comprehensive and complete. I highly recommend the Roden Dr1 and the Encore F1 kit to any modeler that wants to add a Dreidecker to their collection, and if you want to model one of Richtofen's tripes, the Eagle Editions decal set is a must. I posed the models with a replica "Blue Max" that I purchased from a local shop several years ago.
References
Eagles of the Black Cross, Walter Musciano; Obolensky Publishing
Fokker DR1--The Ace's Aircraft in 3D, Tomas Kowalski & Marek Rys; Kagero
Aircraft in Profile, Fokker Dr1, J. M. Bruce; Doubleday Publishing
Ace Profiles - Manfred Von Richthofen, James Miller; Airpower Editions Publishing
Sopwith Camel vs. Fokker Dr1, John Gutman; Osprey Pub.
Fokker Dr1 Aces of WWI, Norman Franks & Greg VanWyngarden; Osprey Pub.
© Russell Bucy 2017
This article was published on Saturday, July 29 2017; Last modified on Saturday, July 29 2017