HpH Models 1/32 SBC2 Helldiver
By Mark McAllister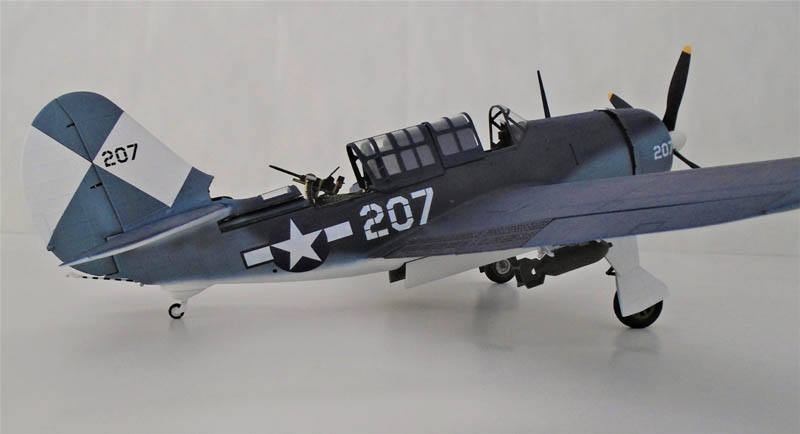 I dragged the kit with me to Japan and built it there, then dragged it back home for painting and finishing. My impressions of the kit are mostly good, though mixed on a few items. The quality and fit of the parts is really good (my first resin kit) and it's a heavy monster with lots and lots of parts! Maybe too many parts in a few areas. I tried to assemble the flaps to show off what could have been an impressive display but I gave up. The flaps and dive brakes are just too complicated and intricate. I finally threw in the towel and glued the outer skins in place. While the instructions are well laid out, there are some mis-numbered parts and other minor mistakes throughout the manual. I'm still on the fence about providing the manual on a CD - sometimes it would have been helpful to have a booklet in front of me and I did not have ready access to a printer. While I doubt I would tackle another Helldiver, I will line up for the next HpH offering that interests me (F7F Tigercat!).
I used G-Factor gear, otherwise built OOB. The exterior colors are MM enamels and the interior is Mr. Color. I couldn't find Interior Green during my first hobby excursion in Tokyo so I mixed up an approximation - way too dark! I did find IG later but had the fuselage closed up by then so it was too late.
I didn't do any weathering - I have to admit I reached a point where I just wanted to get it off the bench and on the shelf! Plus I kept breaking things off! The final production has lots of things stuck all over the exterior that will fall off at the drop of a hat, so be careful during the final stages of completion.
---
© Mark McAllister 2017
This article was published on Saturday, July 29 2017; Last modified on Saturday, July 29 2017