Hasegawa 1/32 Kawasaki Ki-61-1 Hien
By Michael Rohde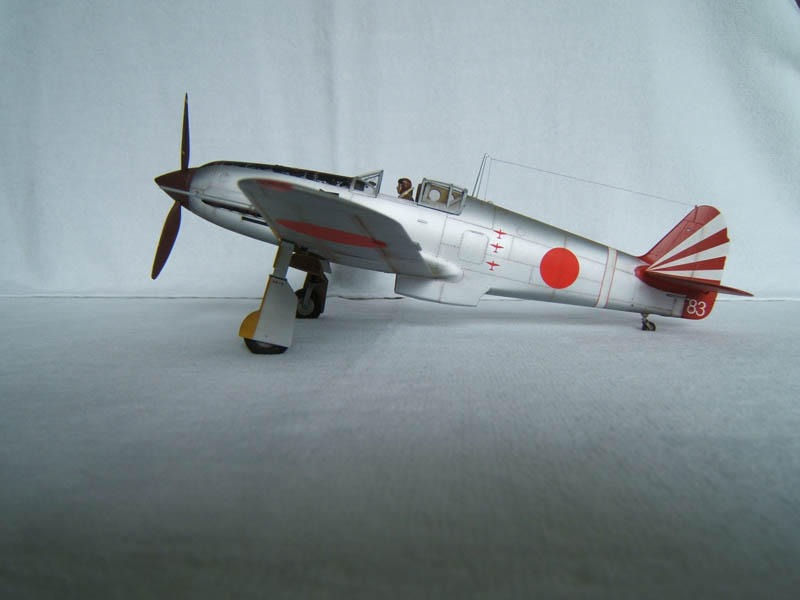 History
The first of 12 Ki-61 prototypes were flown during December 1941. Early tests were highly satisfactory. A production example of the Ki-61 was tested by the IJA in mock combat against a captured Curtiss P-40E and an imported Messerschmitt Bf 109E. The Ki-61 was found to be superior in overall performance so that the army had no hesitation in accepting the type for service under the official designation Army Type 3 Fighter Model 1.
More than 30 production aircraft of the Ki-61-1 were completes by the end of 1942. The Ki-61 was a cantilever low wing monoplane with a conventional tail unit, retractable tailwheel landing gear. Single seat accommodation beneath a canopy with good visibility.
Power was provided by the 1175 hp Kawasaki Ha 40 inline engine (in fact a licence-built version of the famous Daimler Benz DB 601 A).
When the Ki-61-1 began to enter combat operations from New Guinea in April 1943, the type was quickly found to be an outstanding aircraft and well able to hold its own against Allied fighters.
As production began to build up the Ki-61 appeared in all theaters where the Japanese Army was operating, soon receiving the Allied code name 'Tony'.
The initial Ki-61-1 was armed with two fuselage mounted 7.7 mm machine guns and two wing mounted 12.7 mm guns, but sub-variants included the Ki-61-1A with the wing mounted machine guns replaced by two imported 20 mm Mauser MG 151 cannon, and the Ki-61-1B had four 12.7 mm machine guns.
The Ki-61-1 was not an easy aircraft to maintain in the field and there were considerable problems with the HA 40 engine.
An improverd Ki-61-1 C appeared in early 1944, its structure being simplified and strengthened and incorporating a detachable rear fuselage and a fixed tail wheel to ease maintenance problems.
Engine problems where less easy to resolve, the biggest problem resulting from main bearing failures. No remedial action proved effective and over time a dwindling supply of HA 40 engines began to reduce the number of machines coming off the production lines. Their number included some Ki-61-1D aircraft which substituted two 30 mm HO 105 cannon for the 20 mm weapons of the Ki-61-1 C.
Production finally ended in January 1945 after 2666 (including prototypes) had been built.
Technical data Kawasaki Ki-61-1-C:
Powerplant: one 1175 hp Kawasaki HA 40 12 cylinder inverted Vee piston engine.
Performance: max. speed 348 mph (560 km/h) at 16405 ft (5000m); sevice ceiling 32810 ft (10000m) max range 1181 miles (1900 km)
Weights: empty 5798lb (2630 kg) max take off weight 7650 lb (3470 kg)
Dimensions: span 39ft 4 1⁄4 in (12 m). length 29 ft 4 1⁄4 in (8.95 m). height: 12 ft 13/4in (3.7m) Wing area 215.29 sq ft (20.00 qm)
Armament: 2 fuselage mounted 12.7 mm machine guns. 2 wing-mounted 20 mm HO -5 cannon.
All versions had provision for underwing drop tanks, but Ki-61-1 C and all Ki-61-IIs could carry two 551 pd (250 kg) bombs in place of drop tanks.
Operator: Japanese Army
The Kit
Good kit reviews have been written about this kit so all I want to say is that the kit is of Hasegawa's usual high standard.
All parts are crisp and with good detail.
This particular kit has a nice bonus added. This being a standing pilot figure made of zinc and depicting Captain Kobayashi Teruhiko. IJAAF 244th Flight Regiment.
Stage 1: The Cockpit
As usual I start with separating all respective parts from the sprues clean up the attachment points. No flash, sink marks or injector pin marks worth to write home about. So without further ado I did proceed with painting all the parts.
There are decals supplied for the instrument panel but I decided to hand-paint all details and let these dry before I applied drops of Tamiya X 22 gloss clear to imitate the glass on the on the covering the instrument gauges. This I repeated several times to get a good flat build up of clear to mimic the glass lenses.
All consoles where carefully dry brushed with Tamiya X 11 chrome silver.
For the general cockpit interior I used Humbrol Matt 94 yellow brown.
Cockpit side walls, floor, and bulkheads were weathered with medium and dark brown pastel colours.
---
Stage 2
Closing the fuselage was followed by assembling the wings, tailplane and radiator. As you can see, small amounts of Tamiya filler was needed to treat the seams. There was a .5 mm step on the tail plane interface which had to be taken care of.
---
Stage 2A
I decided to go with the open cockpit option and made sure that the clear parts fitted as good as possible by careful. spot grinding and sanding. The windscreen in particular required attention. Adjustments were done under 10-fold magnification. A marker pen was used to highlight high spots.
---
Stage 2B
Here I prepared all the small parts. The Venturi tube was drilled out and the gun muzzles were opened up as well. The torque braces on the landing gear legs were drilled with 6 holes each to resemble the real thing.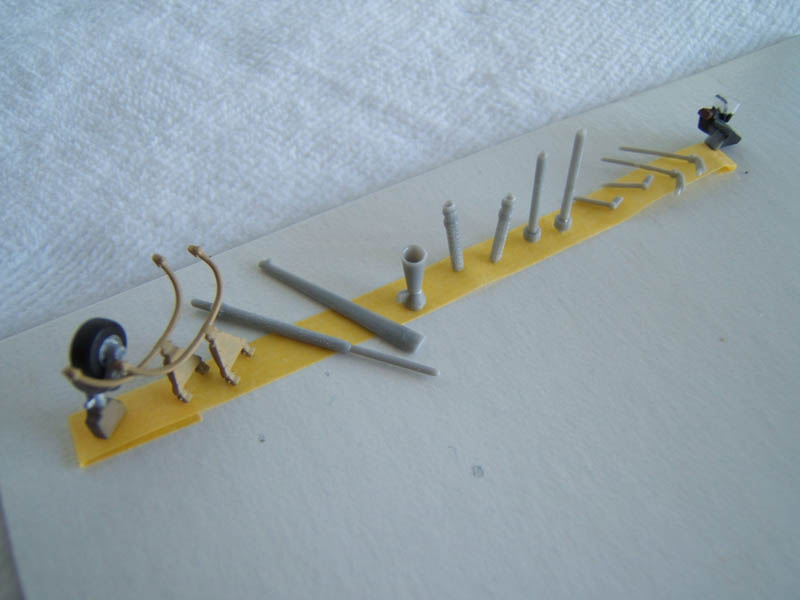 Brake lines were fashioned out of stretched sprue.
The propeller unit is made ready to be painted.
The exhaust stubs were also drilled out to make them look more realistic.
---
Stage 3
Now it was time to mask off wingtip position lights, landing light as well as the lights on top of the fuselage and the fin. That was not easy due to the shape and size of the items and tiny bits of masking tape had to be cut and applied one piece at a time.
To protect the cockpit interior from overspray I prefer to use a soft spongy packing material. That stuff is quite flexible and squeezes easily into spaces.
Now all was ready to paint the black anti-glare, the red tail plane and the orange yellow inner leading edges. Before I painted the black anti glare I primed the surface with Humbrol 11 silver (which I will use also for the overall metal finish).
---
The reason why I did this: When I do the weathering I flake of the paint around the panel lines with a sharp instrument to achieve the effect of paint wear and tear.
The propeller unit is painted with Humbrol 160 matt and a thin coat of Tamiya gloss clear X 11.
Next all the pre-painted areas (including the wheel wells) need masking. Pitot tube and radio mast will be glued into place.
Then all is ready to get a overall coat of Humbrol 11.
Stage 4
Here we come to painting the complete airframe with Humbrol 11.
I let the model sit and dry over a couple of days and then removed the masks.
The complete landing gear assembly including tail wheel was installed.
When the glue had set I moved on to getting the decals ready.
My choice of decals were the markings of the 6th 'Shinten Seikutai' 18th Flight Regiment stationed in Kashiwa A.F. In Jan 1945. Pilot Lt Koyake Mitsuo.
---
Getting the decals on was no problem. The quality of the decals is very good and with the help of a bit of Microsol Decal Solution these settled in nicely.
The next step was to overspray the entire model with Humbrol 135 Satin clear. Humbrol Satin does take quite a bit of time to dry so I left the model alone for 5 days to make sure that the paint had cured sufficiently and handling of the model did not leave any finger prints.
The last step was to add some mild weathering using pastel colours. See photos for comparison before and after weathering. Also note the effect of the chipped anti glare paint.
---
All in all this was a pleasant build and this model gives us another good example of what Japanese aircraft designers and engineers were capable of.
© Michael Rohde 2017
This article was published on Thursday, August 03 2017; Last modified on Thursday, August 03 2017