Fisher 1/32 Ryan PT-22 Recruit
By Gene Nollmann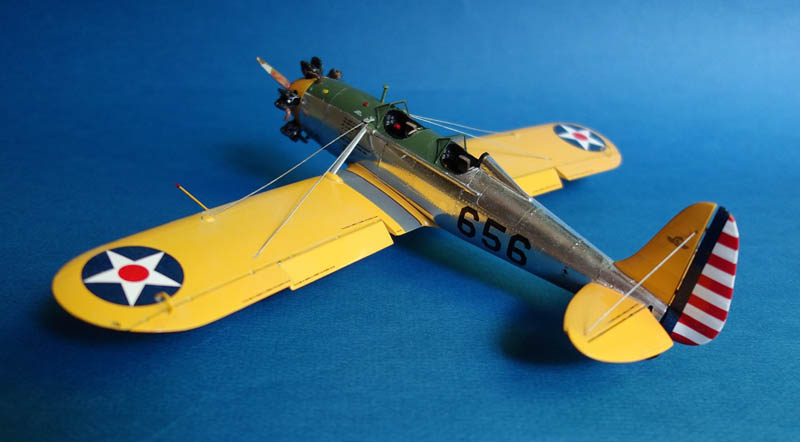 I've always been a big fan of Paul Fisher's 1:32 scale aircraft and was intrigued by the PT-22's ballistic bullet shaped fuselage with porcupine quills of motorcycle-like jugs poking out of the nose. The kit is nearly half the weight and volume of the 'normal' Fisher aircraft kit, but definitely an interesting subject. There are two basic routes to take with the finish – a working trainer of the period (WWII) or a contemporary 'restoration' used as a sport plane. I decided on the 'contemporary' route which generally appears with a highly polished NMF and classic chrome yellow 'feathers'. Internet search led me to many possibilities, but one in particular attracted my attention with a red prop spinner, chrome yellow engine cowling and sporting the buzz number 656. The excellent decals included in the Fisher kit provide the buzz number 995 and was easily cut and rearranged to 656; ironically, the kit decal serial identification read, 'U.S. ARMY PT-22, AIR CORPS SERIAL NO. 41-15656' – no rearrangement needed!
Internet research on 656, aka Army Air Corps serial no. 41-15656 turned up some interesting info and pics. One pic in particular has this appearing just below the serial number, "Ryan School of Aeronautics / Hemet, California 1942, 1943." And just under the horizontal tail, the civil registration of "N47012". During WWII, Hemet field was a very active Army Air Corps flight training center (the Army had dozens all over the States, but California weather was the most conducive to year 'round training) and claims the honor of training some later very well known pilots, not the least being Chuck Yeager! (Maybe he trained on this plane?).
The extra decals were made using 'Decal Gear' clear decal sheet #62201-20 on my inkjet printer and sealed with a gloss coat of lacquer. The bulk of the fuselage is Bare-Metal-Foil Ultra Chrome; the wings and other yellow parts were painted with Tamiya TS-47 Chrome Yellow. All painted parts were pre-painted with Tamiya 87042 Surface Primer (L) – Gray. The cockpit and anti-glare panel were painted with Tamiya AS-14 Olive Green (
USAF).
The Fisher kit is pretty complete with detail but does leave room for advanced embellishment if you are so inclined. The kit instructions are amply illustrated and annotated – some things are subtle, but all the appropriate details are covered; reading the captions and studying the instruction pics pays dividends in a less troublesome build. Overall it was a very fun kit with that peculiar attribute that every successive stage of construction builds satisfaction and pleasant anticipation for the next step. Hope you enjoy the pics as much as I enjoyed the build!
---
More details of the build are in the forums: http://forum.largescaleplanes.com/index.php?showtopic=61144.
© Gene Nollmann 2017
This article was published on Wednesday, August 23 2017; Last modified on Friday, August 25 2017