Airfix 1/24 Mosquito, William Maurice Shaw, No 1 Squadron 1945, South Pacific Islands
By Suresh Nathan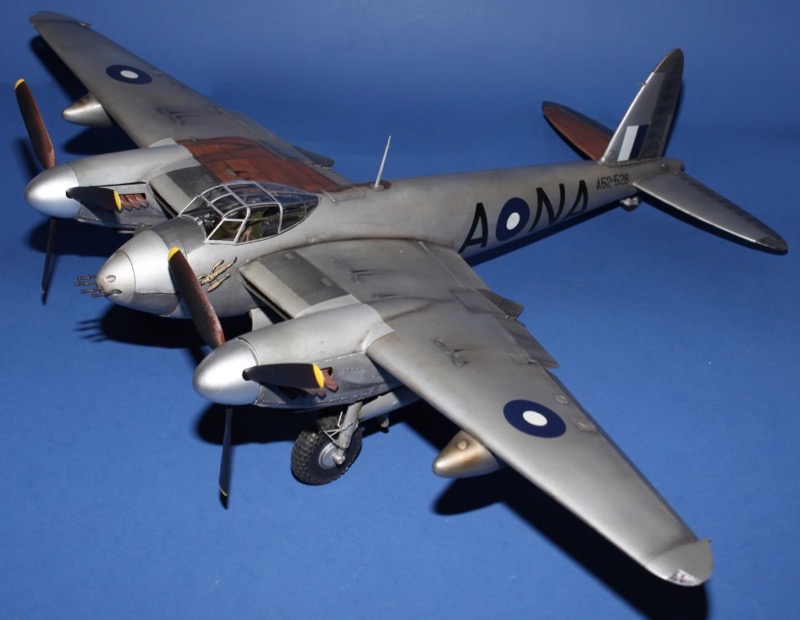 Introduction
This year (2017) represents the 50th anniversary of the Army and Navy in Singapore and 2018 is the 50th anniversary of the RSAF (Republic Singapore Airforce). Being a critical part of the British Colonial presence in South East Asia, Singapore was a waypoint for a number of interesting aircraft in the region. On 15 August 1945, Japan announced its surrender since its occupation of Singapore on 15 February 1942. The mosquitoes therefore didn't spend too much time in the Malaya conflict. In the post-war years they were used in survey and other supportive roles in the region. The unique thing about them was their silver finish which held up better in the humid climate.
Being what was going to be a huge all-silver plane I needed to find something with interesting nose art to break up the monotony. I also wanted to show the wooden construct - the model is to be placed in the RSAF Museum in Paya Lebar, Singapore with a general viewership and the woodwork would generate interest and discussion. I came across the plane flown by William Maurice Shaw who was given a new de Havilland Mosquito, A-NA A52-528 in 1945. This was the Mosquito he adorned with art work on the pilots access door, "The Geelong Flyer" named after the train from Geelong to Melbourne, as Maurice was from Geelong, Victoria. Several times while flying A52-528 when returning to Australia in 1945 and again in 1946 servicemen would turn up to his Mosquito and ask him to take letters home.
The Model
The Airfix 1/24 Mosquito is a beast! The model engineers designed the thing the old-school way on a draftsman board - a far cry from the current technology of cad cam design. It builds like those nostalgic Airfix kits of 40 years ago. They are all plastic with the usual 'Airfix' styrene. It was quite pleasurable applying Humbrol polystyrene to this plastic - much like Airfix glue in those little snap off tubes of old - but I digress. There is a downside to all this plastic - with the electronics (which was negligible) it weighs about 3 kg. That is very difficult for any plastic undercarriage to carry, even one as hefty as the ones here and so it broke repeatedly throughout construction and I had to make a special styrofoam stand to carry it during construction and transportation. Also, with something this size warpage is inevitable. Rather than gluing warped surfaces together and sanding them evenly, in this model it's far more desirable to clamp everything as flush as possible and gluing it. This is necessary to avoid structural failure due to thinned plastic.
---
The lighting was a fairly simple affair. Two bulbs in both wings to light the landing lights and indicator lights in parallel with the one behind the instrument panel and this in turn was in parallel with the (now discontinued) Airfix motors which are in series. The whole lot is powered by a 9V battery housed in the inner starboard wing. The panel is held in place with a neodymium magnet. The switch is just a free wire on copper foil.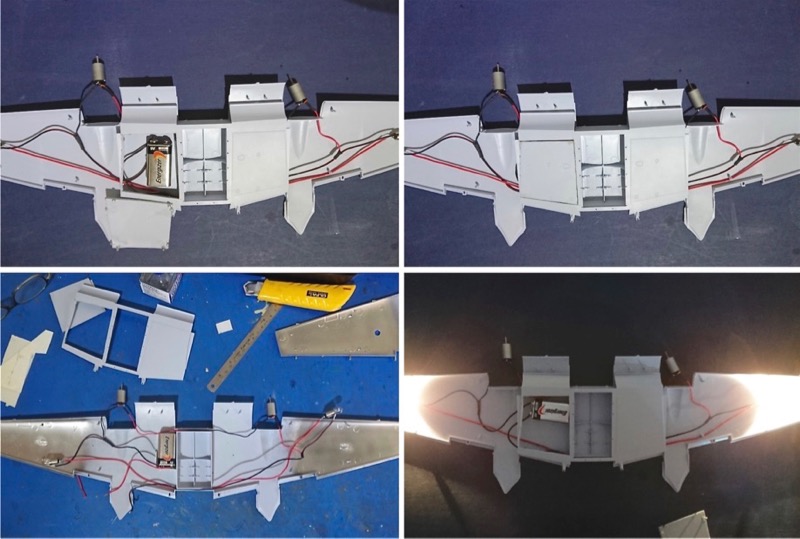 The Rolls Royce Merlin Engines are very accurate and beautifully done. What's more, there is enough space in there to house the electrical motors. All the hydraulics are accurate for the Merlin but mine has 2 additional wires.
Apart from the wheatbulb backlight and the lead foil seatbelts, the cockpit is essentially out of the box and builds out very accurately. The callouts are for Humbrol Cockpit Green which is accurate but looks too milky for my personal taste. I usually prefer Humbrol Interior Light Green.
Painting and Markings
The "Geelong Flyer" was a train service between Geelong and Melbourne in Australia. It became the nickname of this Mozzie as William Maurice Shaw would ferry mail between his South Pacific Base and Australia and he was from Geelong. This was justification enough for the subject. The outline was hand drawn with markers and painted in acrylic.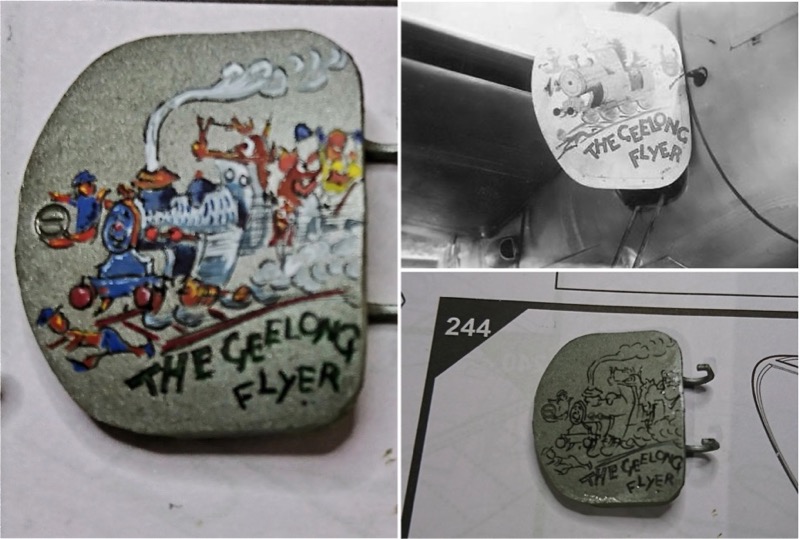 The woodwork was achieved by putting a base coat of red brown, shaded with sand. A stencil is used to spray burned umber would grain. Pastel shading sealed in Future floor wax finishes the effect.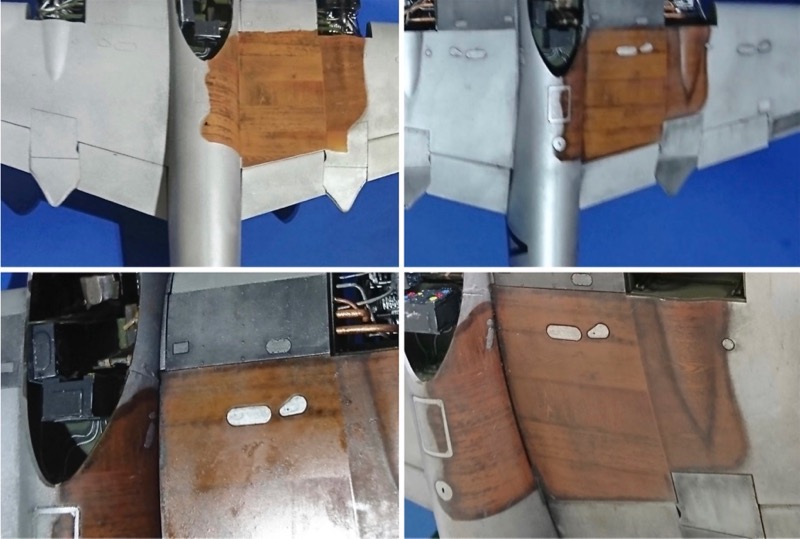 The model was painted in Humbrol metal coat shades and touched up with various pigments to give some panel variation. It is a mostly wooden aircraft with metal fittings and NMF stressed metal in not an appropriate look for this model. Still, some variation is necessary as otherwise it looks too monotonous.
The markings are all from the kit repositioned as necessary.
Figures
The kit comes with 4 figures - 2 seated, 2 standing. I was going to use just 2 so I cut and scavenged parts off the seated pilots to rebuild the navigator. These come in 2 halves which is an uncommon practice for figures today. They were painted in acrylic and shaded in oils.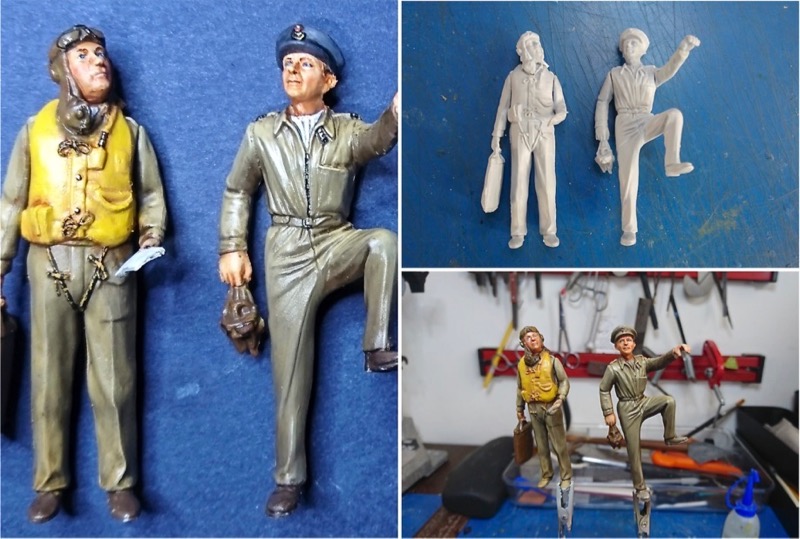 Conclusion
It was good to build an Airfix kit after so many years albeit in a scale I do not normally do. I'd like to thank Peter Chiang at Hobby Bounties for providing the kit, paints, glue, motor and motors for this build. The experience of building something like this out of a traditional brick and mortar hobby place is a welcome change.
---
References
Point Cook RAAF Museum http://www.airforce.gov.au/raafmuseum/exhibitions/restoration/dh_98.htm
Squadron/Signal Publications Walkaround Mosquito
This article was published on Thursday, October 19 2017; Last modified on Thursday, October 19 2017