1/32 P-38H Conversion
By Larry Hawkins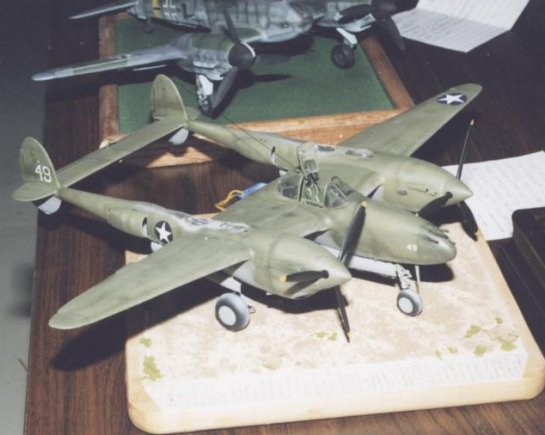 This is the conversion of the Revell P-38J back to the "H" model. I used the Weapon's Shop resin nacelle's and the wheels and tires from same. I had my work cut out for me,and it wasn't easy cutting off the front portion of the kit nacelle's.These had to be aligned parallel to the boom and centered same for the look from my pic's and intel.
After all the bondo had dried and everything looked right,I proceeded to glue the wings and other parts from the kit together. I cut out the elevator,aileron's,and all the trim tabs and repositioned them. During this time I sanded down the whole plane and let the other parts dry after gluing them together.
Then I went and started marking and cutting some sheet plastic for the cockpit. The whole cockpit was completely scratchbuilt and everything else including a new seat and steering wheel other than the kit one. I added seat belts and harness to same.
I reset the super chargers and covered as to the pic's that I had to go by.Used Jerry Rutman canopy for this type of 38 for the "H" model to have it look right. Reset all the intakes small and medium sized ones are on the nacelle's and in front of the super charger. Cut out the pilot's boarding step that retracts in all 38's.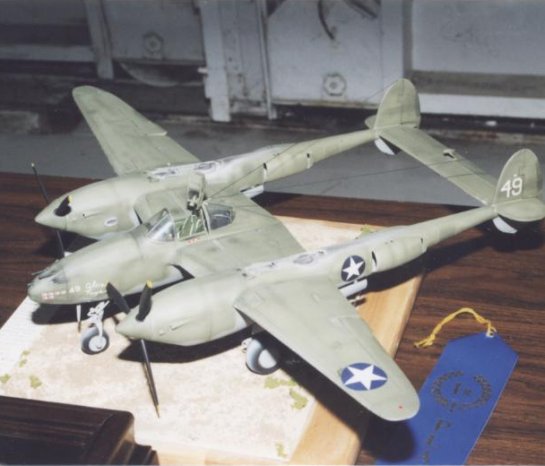 Masked off the whole plane and primered it with 6 coats of grey primer and let it set for a couple of days. Resanded and reprimered again and let it set for five days. Rescribed the panel lines as to the Squadron in Action series for the 38. Scuffed down the whole plane and got it ready for the O.D. and Grey. Shot the paint on and let it set for a full day. I weathered the paint by adding flat white to the O.D. to give it a faded look. And darkened the O.D. with a touch of dark green to give it a little depth. I added the exhaust to show that this A/C was used a lot, with the color change due to the exhaust. Gave it a 50/50 black acrylic wash and wiped off the excess. Added the decals from MIKE GRANT. He's a life saver. Ran out of plain stars. Added the antenna wire, which was stretched sprue. Painted it back. White numbers came from the spares box. The .50's are from the Hasegawa F-86 kit and the kill markings are from the corsair data sheet.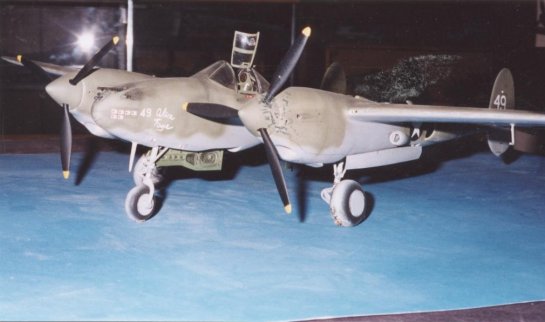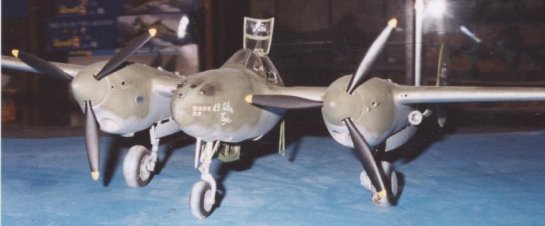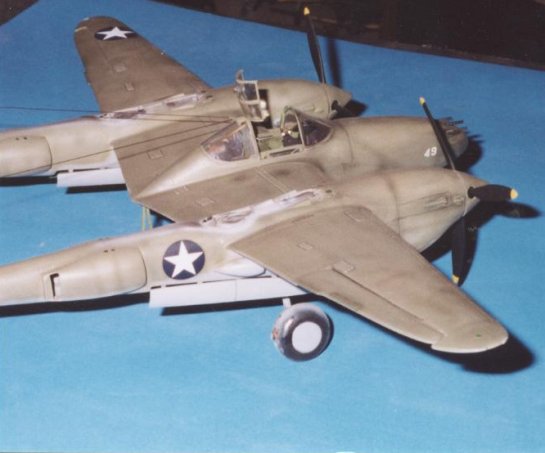 I made a small dio for this puppy to represent this 38 in mid 43, at Henderson Field, Cactus Air Force. Twelve hours before this and 13 other 38 will intercept two Betty's and ten zero for escort. I'll leave the rest to you on what happened...
Now for my 14th 38, an F-5A.
© Larry Hawkins
This article was published on Wednesday, July 20 2011; Last modified on Saturday, May 14 2016