Revell 1/32 Messerschmitt Bf 110G-4
By Olivier Barles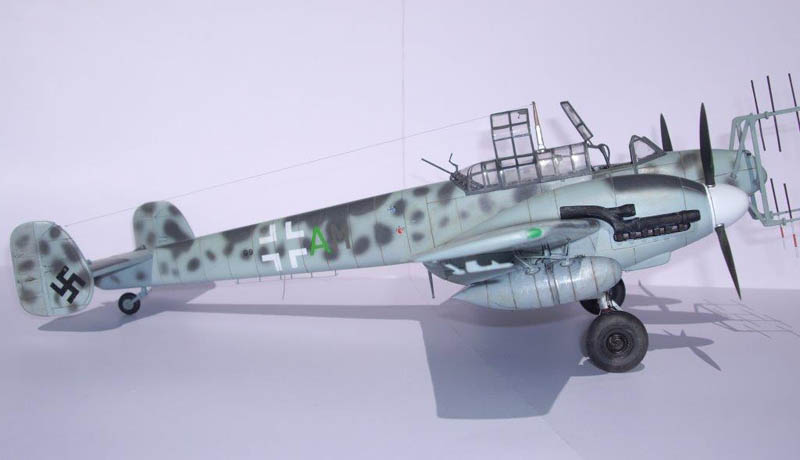 Here are a few photos of my Messerschmitt 110G-4 from Revell in 1/32 scale, a kit I purchased 25 years ago!
Basically, the model out of the box represents a Bf 110 C. So, there was a lot of work to get something looking like it should look to get a G-4!
cleaning all surfaces and engraving new panel lines
cutting off the tail control surfaces to get a more dynamic look and adding some pieces of plastic card at their top to get the right shape of a G-4
in the cockpit, scratch-building from the pilot's seat to the gunner's one, adding anti-crash pylons, cables, controls, boxes, etc.
"the canopy issue": this model is more designed "as a toy", so is the canopy aimed to be closed or opened at will. For that, canopy parts and hinges are molded "very thick", that is hardly acceptable at this scale. So, canopy has been "vacu-formed" except the windscreen. Once done, canopy frame out of strips of plastic card has been built, with its locking system, adding cables and handles where there should be as per documentation.
the undercarriage: creating a separation between the engine and the wheel well, digging a hole for the wheel at the rear of the well (that was non-existent otherwise), making the tires flat
propeller: reshaping the propeller spinners to get the typical "rounded look" of DB 605 spinners (spinners provided in the box are of DB 601 engines) and using propeller blades from Quickboost
As final work, two supplementary tanks were added as standard equipment for Bf 110 G to increase flight autonomy during their long nights of British bombers hunting.
---
© Olivier Barles 2018
This article was published on Monday, April 23 2018; Last modified on Monday, April 23 2018