Hasegawa 1/32 Ki-84
By Mark Kuzia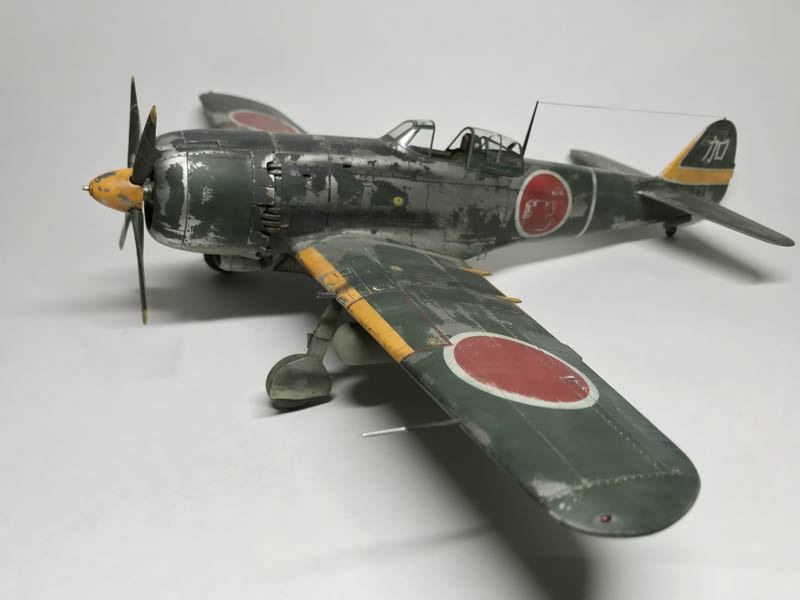 The original goal the this build was to test and experiment with heavy wear, weathering, and chipping. My intention was for it to look like it was used, abused, and forgotten about, and studied actual pictures of heavily weathered Japanese aircraft. Some of my observations were that the late war Dark Green was often applied thinly over bare metal, and frequently chipped heavily along the cockpit, panel edges, rivets, and leading edges. On the contrary, the white used in markings was extremely resilient and rarely chipped, same goes for the Red used in Hinomarus, while chipping was limited, it did fade and wear off.
---
Items Used in this build:
Hasegawa Nakajima Ki-84 Hayate (Frank) special edition…best kit Hasegawa's inventory
Montex Mask 32100…good quality as usual
Eduard 32542 Interior set: easier than it looked
Quickboost exhaust: fit perfect
Wash: Flory Grime wash (all over airframe) and Vallejo Black Wash (engine)
Pigments: Flory Light Sienna (undercarriage dirt) and Vallejo Pigments Light Yellow Ochre (topside dust)
Pastels: Tamiya Orange Rust, Gun Metal, Soot, and Yellow
Paint: Vallejo Metal Aluminum and Duraluminum. Bottom XF-76, Top XF-67, Interior XF-49
Clear: Testors Dullcoat
Chipping: Vallejo Chipping Fluid (50/50 mix with thinner)
---
This build had all the weathering techniques thrown at it, base-coating, mottling, chipping, washes, pastels, and pigments. The Hasegawa Ki-84 was a beautiful model to build, require not a single drop of filler anywhere, and only a slight scuff of a sanding stick on one wing root. Every other piece fit without any drama, only slight sanding along the fuselage half seams was needed, to date I still rank this kit as my most enjoyable build. Another kudos to Eduard, that made an excellent PE set to replace the fictional kit seat, and finally to Quickboost for the perfect fitting hollowed exhaust.
---
My build thread can be found in the forums.
© Mark Kuzia 2018
This article was published on Thursday, June 14 2018; Last modified on Thursday, June 14 2018