Revell 1/28 Fokker DR.1
By Warren Zoell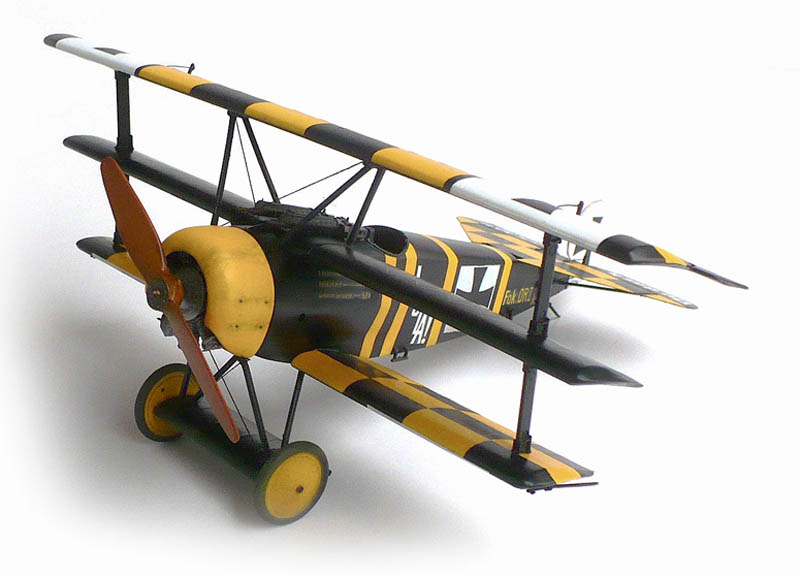 Here are some images of Revell's 1/28 scale Fokker DR.1 in the markings of LOLA! flown by the fictional Character Ernst Kessler (Udet?) excellently portrayed by Bo Brundin from the Movie "The Great Waldo Pepper" 1975.
To make this model into LOLA! I not only had to create my own decals but I had to scratch out a new tail skid, take out the front section of the cowling as well as extend it by 1/4 inch. The checker board and stripe patterns are mask painted. The literal Translation of "Du doch nicht!!" is "Not You!!" but it has more meaning to it. Imagine saying "not you" with a smirk and a laugh. Something like a "you and what army" feel to it. This saying was also on the stabilizer of Ernst Udet's aircraft during World War One.
As far as movies go "The Great Waldo Pepper" is a good movie. Not great, but good. However when one is a 10 year old boy it becomes one of the greatest movies ever.
I hope to make more models from this movie in the future.
---
© Warren Zoell 2018
This article was published on Friday, June 08 2018; Last modified on Friday, June 08 2018