Wingnut Wings 1/32 Albatros B.II
By K. J. Bricknell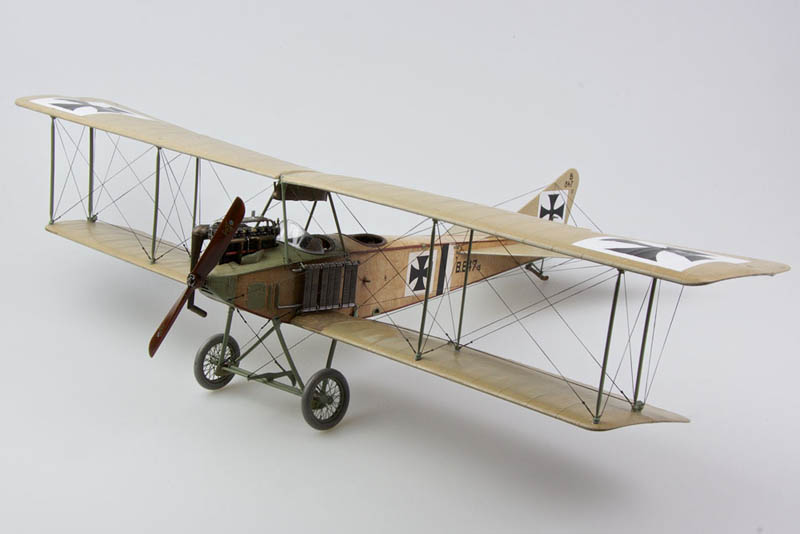 Maybe I should have titled this submission "Avon Sabre begets Albatros BII". To explain:
In mid-2016 I travelled to the Australian Model Expo in Melbourne, where gifted modeller and LSP habitué Eric Galliers unveiled his superb 1/32 scale model of the Avon Sabre I flew as a junior pilot in No 77 Squadron at RAAF Base Butterworth in the then Malaya in the early 1960s. I can tell you that it was quite a moment for me when I saw this superb piece of craftsmanship for the first time, a scale recreation of an aircraft I flew over half a century ago.
Anyway, Eric is quite used to winning prizes at these events, and one of the prizes he won on that occasion was a Wingnut Wings Albatros B.II kit. Since he already had this kit in his stash, he very kindly gave it to me. I started work on it in late 2016, but other matters halted progress until quite recently, when I was able to return to the modelling bench at long last.
I used Uschi van der Rosten fine veneer plywood decal sheets on the fuselage and Aviattic bleached and unbleached linen-effect decals on the flying surfaces. Apart from that and the Gaspatch turnbuckles, it's all pretty much OOB.
Another great kit from Wingnut Wings, but I must say I'd have given blood for some metal aftermarket replacements for those flimsy interplane struts and undercarriage legs.
---
© Kevin Bricknell 2018
This article was published on Saturday, August 18 2018; Last modified on Saturday, August 18 2018