Trumpeter 1/32 Messerschmitt Bf 109G-2/TROP
By Christos Papadopoulos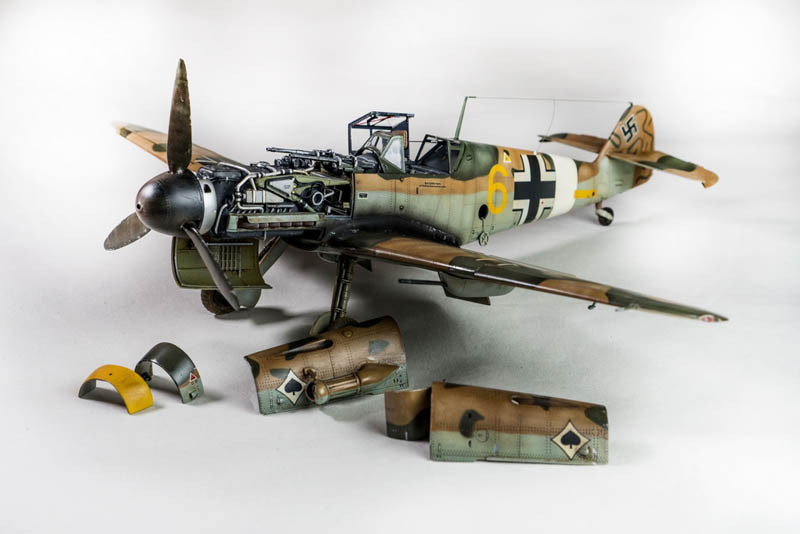 Messerschmitt Bf 109G-2/TROP, Trumpeter 1/32 (kit No. 02295)
The circulation of the Messerschmitt Bf 109G-2 kit by the Chinese company Trumpeter gave us the opportunity to build the beautiful "Yellow 6" of 6 / JG 53 "Pik As". This aircraft operated from Tunisia's El-Aouina Airport 1943. It is one of the most "sunburnt" and soiled aircraft of the JG 53. The lack of complete uniformity in the variation, combined with intense wear and tear, was the main reason for this construction. The kit of Trumpeter offers the necessary for the cockpit and the engine, amazing application, beautiful detail on the exterior surfaces, realistic tires, crisp transparent parts and well-printed decals that fit perfectly. It is indispensable to be made straight of the box. However, for those who want to make the engine covers open, there's going to be a little work up there.
Construction
We were equipped with the: JX133 Eduard Express Mask, plus the No. 33100 Eduard interior set and we started our construction from the cockpit. The Eduard kit helped us to build a complete and more realistic cockpit. Few are the details we have added. Then we assembled the engine that was given by the kit but we did a lot of improvements and additions. From the company's kit we kept only the two supports and the main body of the engine. From a multitude of varied materials such as: insulating tapes, art wire, copper wire, aluminum sticker, line, plastic lengths, plastic gel and Milliput stucco, we completed the engine, firewall and machine guns based on actual photos to get the result that we wanted. The engine was kept for placement at the end. The antenna was made from a fine fishing line, some panels were opened and the landing legs improved.
Painting, Marks and Finishing
For the painting we chose the colors of Gunze / Mr. Hobby with the following codes: RLM78 - H418, RLM79 - H66, RLM80 - H420 for the external surfaces. The cockpit and the spinner with the RLM66 - H416 and the yellow RLM04 H413 for the lower engine cap. The smoke was sprayed with the smoke of Lifecolor. The exhausts were sprayed with dark brown and brushed with the AK Interactive AK 013 Rust Streaks. For laundry we used AK 045 Dark Brown. The already very good tires have become even better since they were soiled with Mig Pigment MIG 3003 North Africa Dust. However,there are no signals for this particular plane,so we made the decals (Yellow 6) with laser printer and Clear Decal Film from Excalibur / Plastimodellismo. The decals were perfectly applied and sealed with Winsor & Newton (Galleria) matt varnish.
---
© Christos Papadopoulos 2019
This article was published on Tuesday, January 01 2019; Last modified on Tuesday, January 01 2019