Manfred and Lothar Richthofen's Fokker DR.1s
By Gary Sausmikat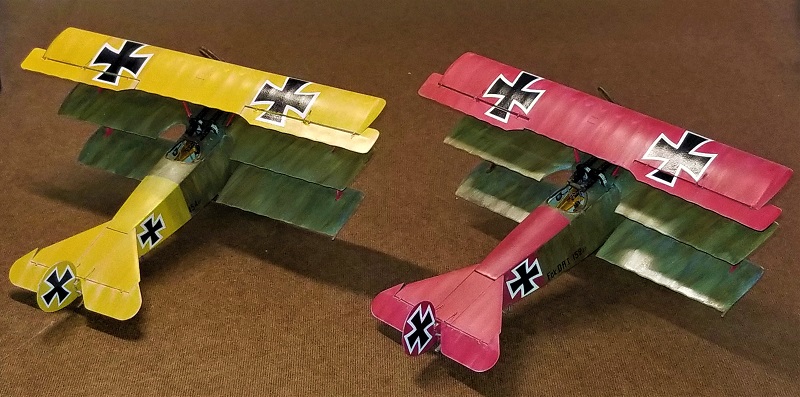 Roden 1/32 Foker Dr.1
Encore(Roden) 1/32 F.1. I did not use the F.1 resin parts supplied in the Encore kit, so essentially, I built another Roden Dr.1.

Eduard photo etched parts #32547 were used for both aircraft.

Decals: A mixture of the two listed kits as well as the 1/32 Hobbycraft DR.1 decals.

Scratch built wood propellers.

Primed with Mr.Finishing Surfaces 1500 Gray. Clear coated with Pledge floor acrylic prior to streaking and decals. Model Master Olive Drab with MIG Oilbrusher Dark Mud, for some color variation, were used for the Fokker streaking. The undersides are Aqueous Hobby Color H67 Light Blue. Red and Yellow are True-Earth SDW paints.
Weathering was accomplished with a wash of thinned burnt-umber artist oil paint for shadows and that dirty look and dry brushed with white and yellow-ochre artist oil paint for highlighting.
---
© Gary Sausmikat 2019
This article was published on Monday, January 07 2019; Last modified on Monday, January 07 2019