Trumpeter 1/24 Junkers Ju 87D-5 Stuka
By Andrea Ferrari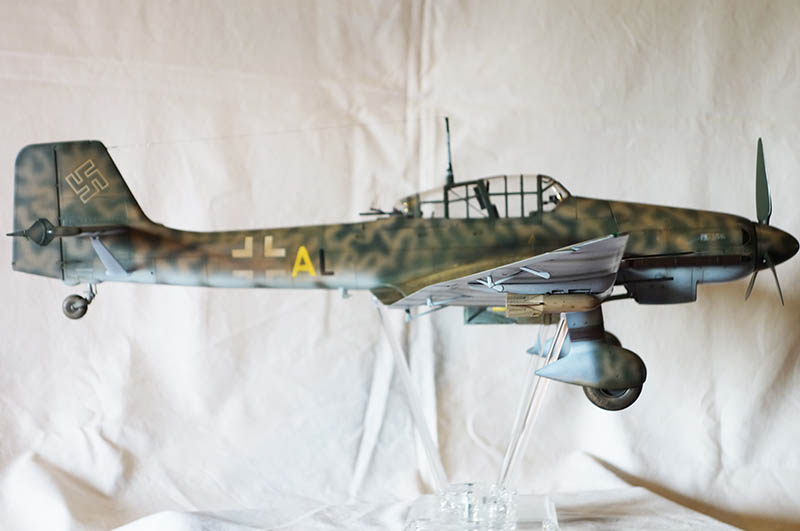 This is my 1:24 Trumpeter Ju 87D-5 Stuka, finished in the livery of a plane of 3/Nachtschlacht Gruppe 9, based in Northern Italy in 1944. I have long been fascinated by this unit's planes and their unique camouflage since building the old 1:48 Monogram Ju87 D-5 a lifetime ago. Long represented as RLM76 Lichtblau or as RLM02 Grau, the wellenmuster field-applied camouflage was in fact a brown which might very well have been RL79 Sandbraun. "Tiger stripes" or even a crowded wellenmuster in unspecified dark green or dark grey were also field-applied on the plane's undersurfaces, with underwing crosses being obliterated most of the times, to make the "ghost bombers" less detectable at night.
---
The Trumpeter kit sports excellent detail, delicate mouldings and perfect fit, building as a large and impressive model, which is however somewhat marred by several faults:
having forgotten the "bumps" on the cowling rear which half-cover the engine mounts;
lacking a few details in the otherwise well-furnished cockpit (such as the armoured bulkhead facing aft in front of the radio operator/machine gunner - which not surprisingly is also missing from the RAF Hendon only surviving D-5 - or the ammo belts for the radio operator's MG 81Z);
a completely wrong bomb cradle (copied from the imaginary recreation carried by the D-5 at RAF Hendon);
the armoured positionable cover for the belly fuselage pilot window being offered in the kit as a transparent panel;
the extended D-5 separate wingtips showing an annoying washout;
and finally a truly awful set of decals, prone to self-destroy during application, and with missing or mispelled stencils, and most importantly wrong-sized Balkenkreuzen of the wrong variant (the D-5 and following types carried thin, outlined crosses on the upper wings but the same very large underwing b/w ones shown by the B and R variants).
All these faults can be corrected rather easily by the average modeller with a little patience and ingenuity. Aftermarket decal or detail sets for this kit are at the moment non-existent according to my knowledge, so I had to scratchbuild a new bomb cradle of the correct type and a set of Flammenvernichter or exhaust flame suppressors, required by the variant I was building.
But the most glaring and difficult to correct mistake in the kit occurs in the rear fuselage between the wing root and the empennage, as the Trumpeter kit appears to be about 3cm/1,18 inch too long here.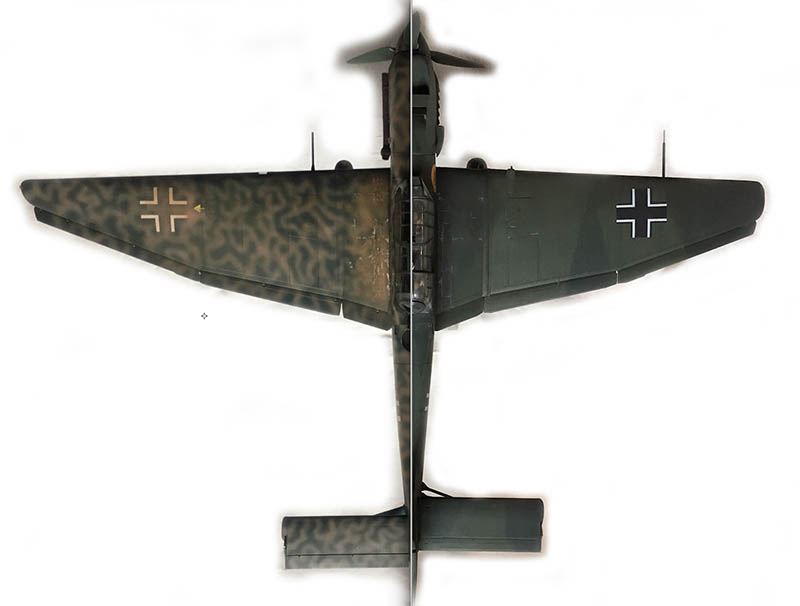 Sadly, I realized this only after having completed the model. If the fault is confirmed beyond doubt I will try to correct it when I'll build the tank-busting, 37mm Bordkanonen-armed 1:24 Trumpeter Ju 87G-2, which is next in line.
© Andrea Ferrari 2019
This article was published on Thursday, February 14 2019; Last modified on Thursday, February 14 2019