Trumpeter 1/32 F6F Hellcat
By Boyd Waechter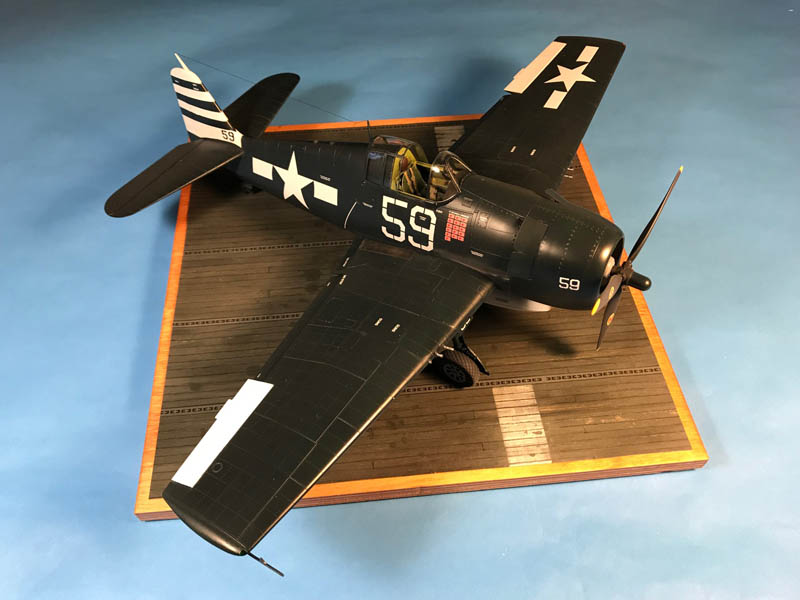 In the past year I've built several Trumpeter 1/32nd scale kits and I can say that the F6F Hellcat is one of their better models. It does have its share of problems:
weird hump in the fuselage just behind the cockpit, but not noticeable when the canopy is slid back in the open position;
the base of the prop blades need to be reshaped;
the tires are a bit too thin with Barracuda's replacement resin wheels a better option to use.
I did not have any real problems building the kit, though I did spend quite a bit of time making sure the outer wings mated up to the center section pieces smoothly. Ditto on the gun bay doors which I elected to close. Things that I did do to improve the kit were:
Made my own lap belts and shoulder straps using RB Productions hardware.
Used Barracuda F6F/F4U resin wheels.
Scratch built the straps and cabling for the belly tank which are not included in the kit.
Using a head on photo of the prop as a guide, I reshaped the bottom of the blades to match the real thing.
There are replacement cockpits and upgrades, but I felt what Trumpeter provided was sufficient so I saved my money.
Replaced the national insignia's with those from a Techmod sheet. Those insignias on the kit decal sheet are too small and way too thin.
Used Fundekals decals to model David Carmichael's airplane flown off the U.S.S. Randolf, an Essex class carrier. Excellent decals.
Used EZ Line for the antennas (2).
To paint the model, I used Model Master's Gloss Dark Sea Blue enamel thinned and then sprayed on in several sessions. After over coating the model with Future and applying the decals, I sprayed the model with a satin clear coat to tone it down for a more scale appearance and to blend everything together. Photos show the F6Fs flown off the U.S.S. Randolf to be in pretty good shape, so I kept the weathering to a minimum.
---
This was a really nice build and I can highly recommend any of the four 32nd scale F6F Hellcat kits that Trumpeter has released.
© Boyd Waetcher 2019
This article was published on Saturday, March 09 2019; Last modified on Sunday, March 10 2019