ESCI 1/12 Scale F-16 Cockpit
By Greg Wood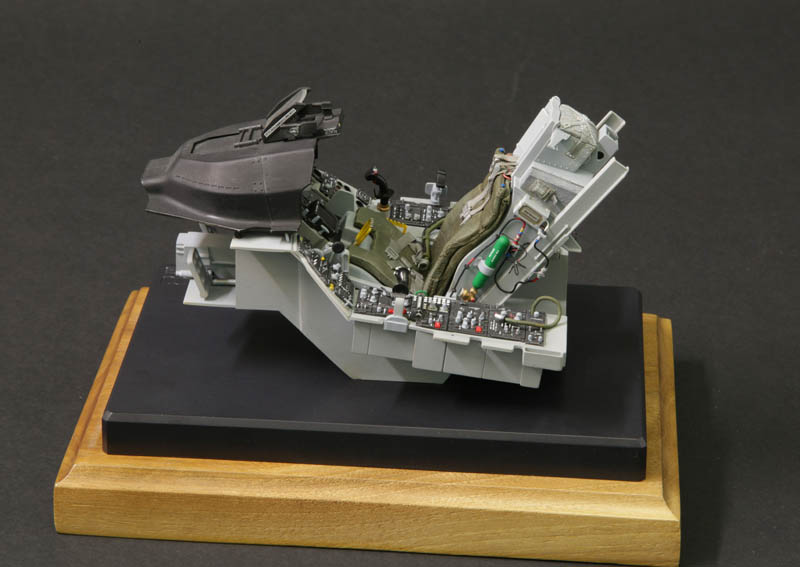 This model is the old, ESCI 1/12 scale F-16 Cockpit, which was released by AMT as well.
Right out of the box it is an impressive model. The major improvements I made, involved changing the toy like appearance of the instrument panel and scratch building a new throttle handle. The restraining harness belts on the ejection seat were made out of Johnson and Johnson medical tape. The oxygen hose and g-suit hose are wound guitar string. The seat cushions are epoxy putty covered with tissue paper soaked in a 50:50 solution of water and white glue.
Years ago, Verlinden made a set of instruments for this kit. That is no longer available but I improved the instrument panel using the same method as Verlinden Productions did back in the day. In 1987 I went to the E.A.A. air show in Oshkosh, WI (USA). While I was looking around the vendor tables, I found a copy of a F-16 pilots flight manual. That was a big score for a 18 year old Viper fan! So I arrived back home after the air show and compared the 1/12 scale V.P. instruments to the flight manual and realized that I had the very book that V.P. used to make their film instruments. Many years later I decided to build this kit. The Verlinden set was lost but I still had the flight manual and took it downtown to a local print shop and had the image sized to scale and printed on clear plastic sheet. On the kits instrument panel, the instrument locations were drilled out (a tapered rat tail file is perfect for opening the holes precisely) and I painted the back of the clear plastic sheet the instruments were printed on white.
---
© Greg Wood 2019
This article was published on Sunday, April 28 2019; Last modified on Sunday, April 28 2019