Craftworks 1/32 Lavochkin La-5F
By John Summerford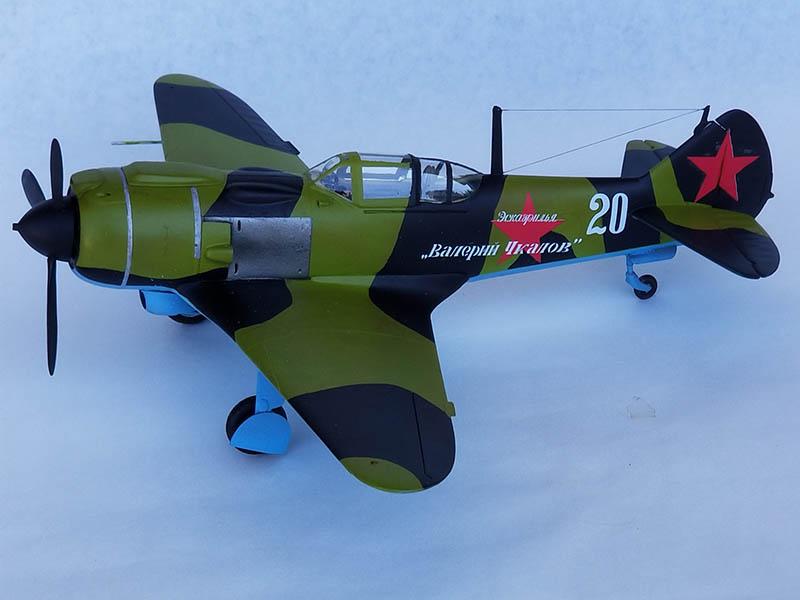 This a CraftWorks resin/multi-media kit that I picked up from the "used" table at my local hobby shop. The fuselage and wings are molded as one piece each. Cockpit detail is added from the bottom, kinda feels like making a ship in a bottle. Assembly is straight forward. The stabilizers are a butt fit, so I added pins for alignment. The fit of the upper wing to fuselage join is good. Some trimming resulted in no need for filler. Filler is required on the bottom however, but easily dealt with.
The most difficult part is the canopy. The fit is tricky and detail is lacking. Fortunately, two vac-formed copies of the canopy are included as well as a plug to ease cutting the excess away. I made do with the second attempt and used epoxy to glue it in place. I created the framing detail by first placing strips of tape where the frame would be. Next, I built up several coats of latex masking over the clear sections. When fully set, I used a new razor blade and scored along the edges of the pieces of tape and removed them. This left the frame ready for priming and painting.
I used acrylics for paint and mixed the blue and green to get the appropriate colors. The Alclad II system was used for the steel exhaust plates. A little bit of weathering was done using artists' chalks. After a couple of gloss coats, the decals were applied using solvent. The decals are brittle, but hey, they're 17 years old. A coat of satin finish was sprayed on and the landing gear plus the radio masts and aerial were glued on and the model was complete.
---
© John Summerford 2019
This article was published on Saturday, June 22 2019; Last modified on Saturday, June 22 2019