Airfix 1/24 Fw 190A-8/R-8 Sturmbock
By Andrea Ferrari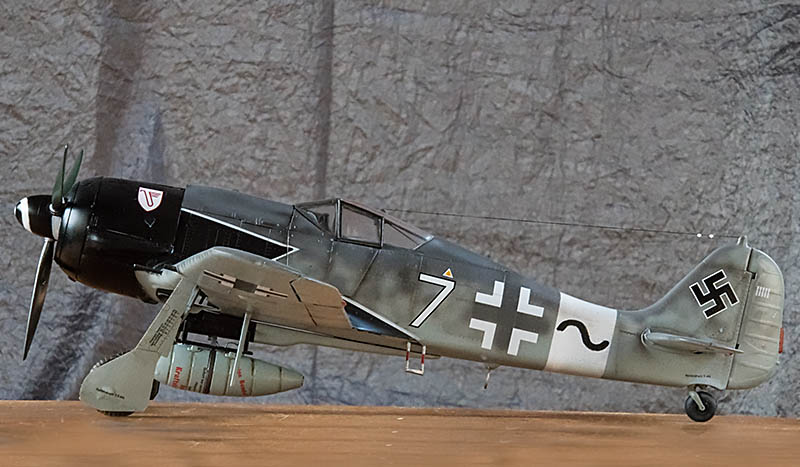 The venerable Airfix 1:24 Fw 190 A-5/6 is the only game in town in this scale, and despite its respectable age it can still be built to a very acceptable standard if its three worst faults are identified and corrected: the overlong engine assembly (which pushes the cooling fan and the propeller assembly about 5mm/0,19 inch too forward), the landing gear box insert (which needs a lot of grinding away to fit correctly) and the landing gear itself (which does not slope forward enough). All three errors can be taken care of fairly easily (if detected in time!), and the rest of the build is reasonably fast and accurate.
This one was modified to A-8/R-8 Sturmbock standards using Grey Matter's finely detailed resin conversion GMAJR2409, which includes new correct cowling panels, a new MG131 bulged cowling, new late-style wheels and two beautiful lower wing inserts complete with correct ammo bulges, spent ammo chutes and MK108 cannon barrels. To complete the conversion I also scratchbuilt the 5mm/.2inch bolt-on armored cockpit side panels (the so-called "Panzerplatten") and the typical 30mm/1.18inch armored glass panels ("Scheuklappen", i.e. blinkers) applied to the sides of the cockpit canopy, with extra "glass" being also added to the windscreen and the triangular panels at its sides. The belly fuel tank and its ETC 501 rack were also moved forward as per A-8 standards and superdetailed.
The model was built and finished as Hans Weik's "Weisse 7", which he briefly flew as Staffelkapitän of 10./JG 3 in 1944. Weik was credited with 36 victories (including 22 four-engine bombers) in only 85 missions and survived the war. Colors RLM 74, 75 and 76 are Xtracolor acrylics - most of the markings were masked and airbrushed, with the white "7" and the JG3 "Udet" crest coming from and old EagleCal decal sheet. The coat-of-arms on the cowling's right side is wrong as it should be handed (i.e. pointing forward) but it's the only one I had, so it had to suffice.
---
© Andrea Ferrari 2019
This article was published on Saturday, July 20 2019; Last modified on Saturday, July 20 2019