Marco's Miniatures 1/24 Albatros D.V
By Andrea Ferrari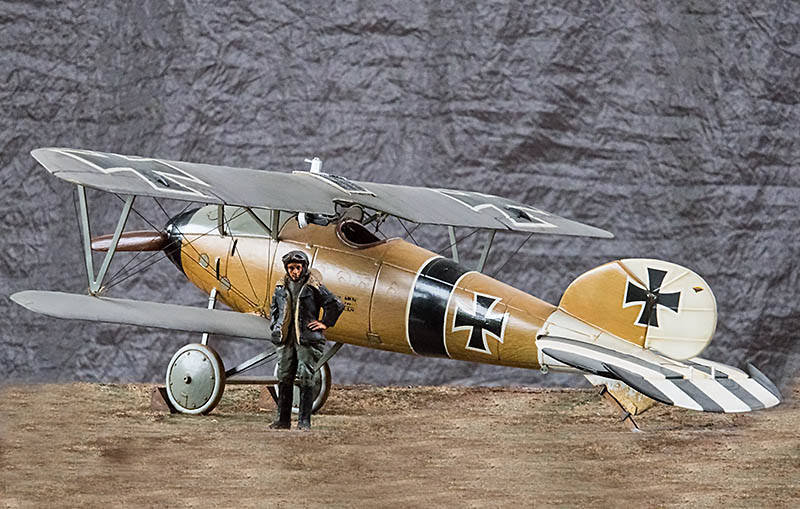 Here's my ancient Marco's Miniatures 1:24 Albatros DV – a beautifully detailed kit which was a joy to build, with a complete, highly detailed brass photoetched internal structure (made up of separate ribs and stringers, the full monty!), thin plastic vacuformed wings and outer fuselage shell plus a number of assorted white metal, wood, brass and resin small parts for the wheels and tail skid, wings/undercarriage struts, cockpit instruments / internal structure and the beautifully detailed Mercedes DIII engine. The two LMG 08/15 machine guns also came with very fine photoetched cooling sleeves and aiming reticles.
Despite its apparent (and real) complexity, it went together pretty well thanks to a lot of sanding and an equal amount of care and patience - the finished cockpit is a jewel in itself, but sadly it doesn't photograph well on the completed model. The resin pilot figure, which is actually very crude, also came from the same manufacturer if memory serves me well.
I opted out of the kit's very nice decals (three different options being offered in the box) and choose to represent instead a woodgrain-fuselage plane flown by Ltn Hans Adam of Jasta 6 during the summer of 1917 (alas, I couldn't put together the correct serial number which should be featured on the rudder fin). Adam crashed this plane on 2 August 1917, but walked away unharmed from the wreck. The vacuformed fuselage of the model was first coated in Tamiya sand, with the woodgrain drawn with artist's pencils in different shades of brown, and then top-coated with a thin coat of Tamiya clear yellow. The Xtracolor WWI enamels German violet, dark green and turquoise camouflage colors airbrushed on the wings used to be somewhat brighter originally, but 27 years of the model sitting on a shelf gathering dust have somewhat dulled them.
---
The whole contraption may look a bit primitive compared to the amazing standards set today by the 1:32 Wingnut line of WWI planes, but back in 1992 it qualified as a great kit!
© Andrea Ferrari 2019
This article was published on Sunday, July 28 2019; Last modified on Sunday, July 28 2019