HK Models 1/32 B-17G 96th BG/337th BS
By Dennis Sauter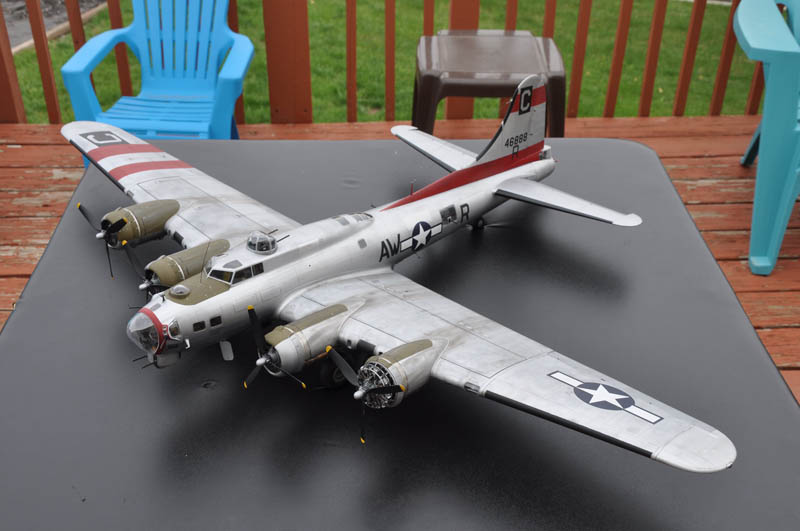 I started this kit over 4 years ago, and its kind of sentimental to get this one done. She depicts my Grandfather's aircraft, 44-6888, of the 96th BG/337th BS. Her crew unofficially named her "Ragged But Right". The war ended before nose art could be applied. My Grandfather, Joseph Denver, was a bombardier and completed 13 missions at the end of WWII. He first mission was in February of 1945, and he remained in Europe until 1946 as part of the occupation forces. He flew most of his missions in this plane,and that is why I chose to depict her.
This is the HK Models 1/32 B-17G, their initial release, with all of the bells and whistles from Eduard, Profimodeller, and some scratch building. She's airbrushed with AK Interactive Extreme Metals and Model Master enamels, and sports a combination of kit decals, Kits World, and custom J Bot Decals for the markings.
---
I wanted to close this article with the Eighth Air Force's letter to St. Peter, which is quite sobering:
Let them in, Peter, they are so tired;
Give them the couches where the angels sleep.
Let them wake whole again to find new dawn fired with sun, not war.
And may their peace be deep.
Remember where the broken bodies lie...
And give them things they like. Let them make noise.
God knows how young they were to have to die!
Give swing bands, not gold harps, to these our boys.
Let them love, Peter - they have had no time -
Girls sweet as meadow wing, with flowering hair.
They should have trees and bird song, hills to climb -
Tell them how they are missed. Say not to fear;
It's going to be alright with us down here.
© Dennis Sauter 2019
This article was published on Wednesday, September 25 2019; Last modified on Wednesday, September 25 2019