Special Hobby 1/32 Hawker Tempest Mk V
By Rick Kranias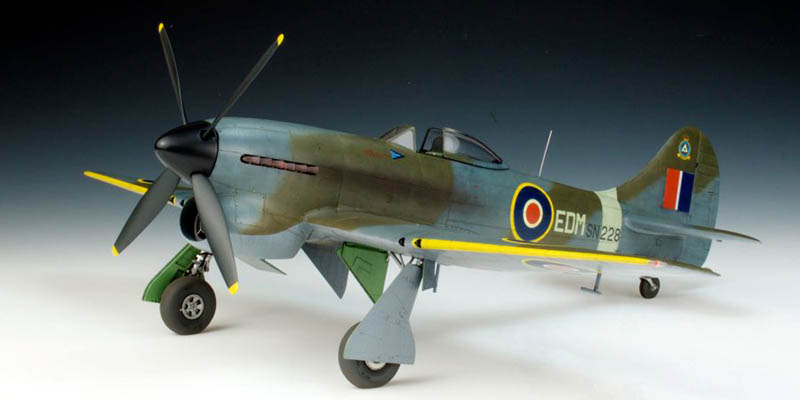 A Thing Divine For Nothing Natural I Ever Saw So Nobel
Special Hobby Tempest Mk.V #32052 was used for Evan Mackie's mount. Mackie, RNZAF, was the highest scoring Tempest ace with 20+ kills. Albeit, most of Mackies kills were in Spitfires.
This kit is a most difficult build. I started this almost two years ago and binned it several times as my mojo was clearly flattened with this. From the cockpit, wing root and landing gear construction offered me plenty of WTFFF! and Are You Kidding Me! moments. There was a good chance you may have heard my screams. This kit is clearly recommended for experienced modellers only.
I chose Mackie's aircraft as I have several Kiwi friends and the lack of ordinance and invasion stripes show the beautiful lines of the Tempest. Weathering kept to a minimum as this aircraft was delivered to Mackie May 1945. See my build log.
Build Details
Yahu 3214 IP, center panel only as side panels do not fit
Barracuda 32334 Nose Correction Set, 32140 Tempest Wheels, 32011 Spitfire Cockpit Upgrade Part II (Acemaker II gunsight only)
Master Model 32096 Tempest Mk.V "short" Cannon Tips
Maketar Masks 32122 Tempest Mk.V
REXX 32043 exhausts
ANYZ AN011 .5mm Braided Thread, AN016 Line Connectors
MV Lenses 197 Amber, LS800 Red & Green, PN21 Clear
Albion Aluminum Slide Fit Tubes .3mm, .5mm, .7mm and .9mm
MR Paint

77 Nato Black
110 RAF Green
111 RAF Interior Grey Green
112 RAF Medium Sea Grey
115 RAF Ocean Grey
118 RAF Sky
122 RAF Marking Yellow
123 RAF Marking Red
135 Insignia White
183 Oxford Blue

Vallejo 306 Dark Rubber
Various Alclad Colors
Tamiya X22 Clear, XF86 Flat Clear
MiG Washes

Dark Wash
Streaking Grime 1203
Engine Oil 1408
PLW Deep Grey 1602
PLW Green Brown 1612

MiG Pigments

Light Dust 3002
Black Smoke P023
Rust P025
Russian Earth P034
---
These publications, highly recommended, were critical helping me on this build. Especially the landing gear rake.
Airframe Minature No.4 Hawker Tempest
Osprey 27 Typhoon and Tempest Aces of WWII
© Rick Kranias 2019
This article was published on Saturday, September 28 2019; Last modified on Sunday, September 29 2019