Modelzona 2019
By Ray Peterson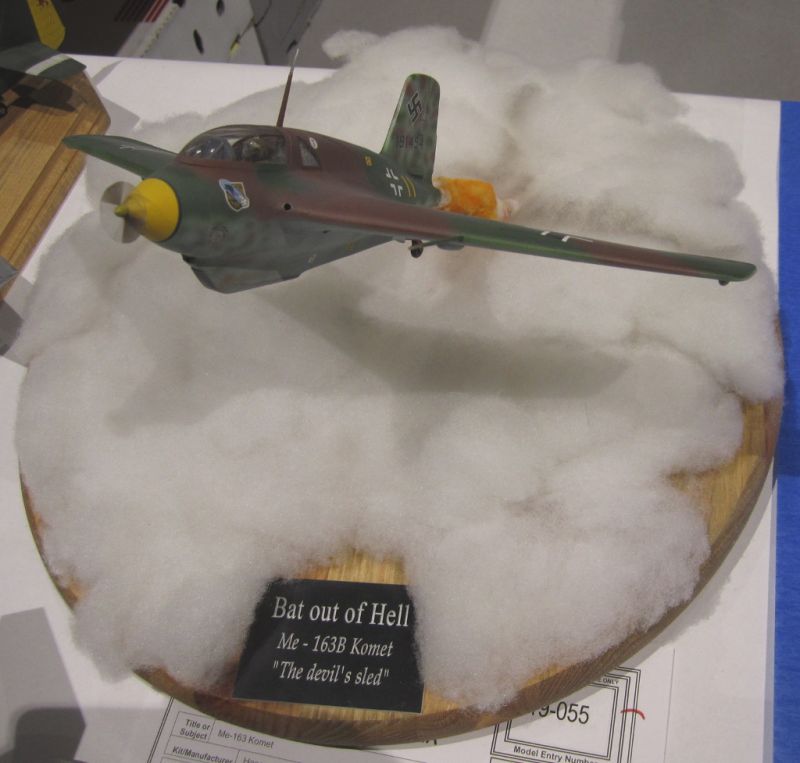 Introduction
On Nov. 2nd, I slipped away from the family and made it over to Mesa, AZ to check out the 2019 edition of Modelzona, IPMS Phoenix's yearly contest. This year it was held at a new location, Red Mountain Community Church, in lieu of the usual CAF museum at Falcon Field.
While I was disappointed in not being around the museum's aircraft, I can see why they moved as the new site has a larger available space, has additional meeting rooms for seminars and discussions, more parking and allows for a much lower entry price.
The layout of the main room consisted of one half for model display and one half for vendors. The tables for each half were arranged in rough circles so the patrons could walk around the circle and, one on side, the vendors could stay on the inside. For the contest display tables, the inside was left open for judges. Unfortunately, they had to add a table for extra LSP entries and there was no close access for looking at details or photos for a handful of entries. It also made for a bit of a tight squeeze getting around a couple spots as the show was pretty well attended.
The LSPs were quite well represented at the show, with twenty-five entries. For a change of pace, I am breaking them up per manufacturer, so I don't have to caption all the photos! I was surprised at how many "older" release kits were displayed, I usually see all the later kits on display.
Revell
Revell was pretty popular at the show, with five entries, with several of their older releases on display. There was also an Arado seaplane on display, which I haven't often seen.
---
Hasegawa
Hasegawa also had five entries, including one each of the F-16 single and two-seaters.
---
Tamiya
The outstanding Tamiya LSP kits led the charge with six entries, including a pair of their excellent P-51 kits, one foiled.
---
Trumpeter
Trumpeter was represented with two entries, a nicely done A-10 and a P-51C.
---
Wingnut Wings
Pretty common at contests these days, with two of them here, a Pfalz with Aviattic decals and a Gotha. Man, that Gotha has a huge wingspan!
---
Copper State Models
One of the new CSM Nieuport kits was entered, the first I have seen. It looks good built up!
---
Hong Kong Models
A HKM B-17 was displayed, and it looked great foiled! That must have been a job.
---
Williams Bros.
I was surprised to see two Williams Bro's kits on display, a P-35 converted to a P-35A, and a Wedell Williams racer. Unfortunately, the racer was one of those that was hard to see and photograph as it was placed inside the table circle.
---
Summary
I was unable to stay long enough to find out the award winners and they haven't been posted yet. If I get the info, and a chance, I will update this article. I also did not have time to take photos of some of the rest of the entries; it was well populated in most categories. I did take one of a 1/48th scale entries, because of its subject matter, Great Wall Hobby's F-15 done up in Oregon National Guard anniversary markings. With the Euro Decals decal set, this would be spectacular in 1/32nd! I know I want to do my F-15 in those markings!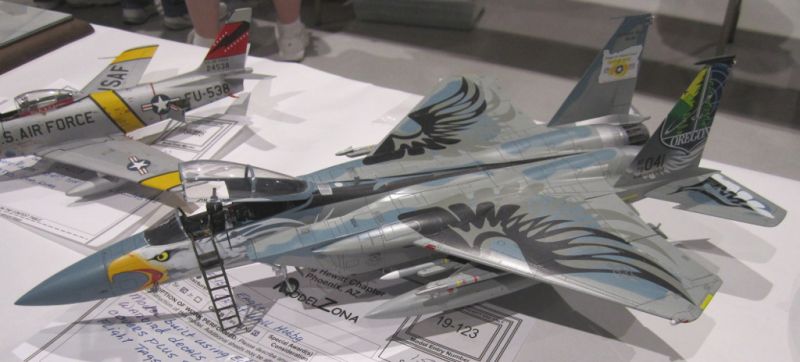 That's all till next year! Hopefully, then I will have something to enter myself.
© Ray Peterson 2019
This article was published on Saturday, November 23 2019; Last modified on Saturday, November 23 2019