Revell 1/32 Spitfire Mk II
By Guy Keller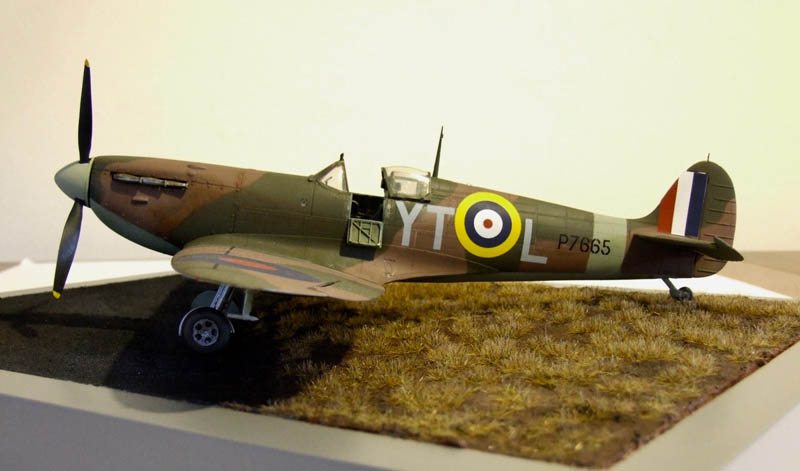 So I saw my friend's Revell Spitfire, and sadly like all Brits felt the need to make one, and so foolishly bought one, which led to me being interested in the history behind the picture of it sat at Tangmere in the bleak January of 1941.
The Aeroplane
Built late 1940 at Castle Bromwich, not fitted with the early IFF warning system, sent to Maintenance Unit at Brize Norton 16thNovember 1940. Refitted with the new TR1133 VHF radio system which did not require the aerial wire from the mast to the fin, as the mast housed the antenna. The triangular prong was removed from the end of the mast although most retained the redundant anchor point on top of the rudder.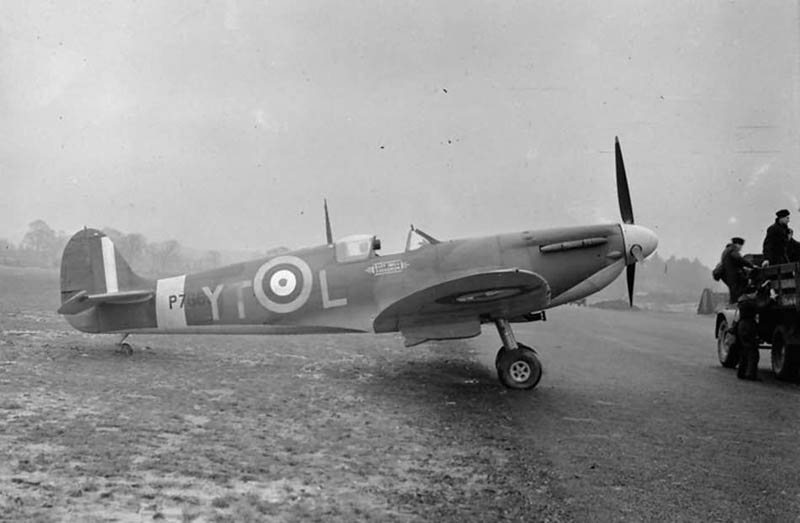 Delivered to No. 65 Sdn on 12thJan at Tangmere, coded YT-L and shot down on 5th February. Its total service life had been less than four weeks.
The History
YT-L was assigned to the 24 year old Pilot Officer Geoff Hill, who had passed out of training and flew with 65 Sdn from mid-July 1940, surviving the Battle of Britain. On a wintry 5th Feb., he and the rest of the squadron took part in a "rhubarb" escorting bombers with the hope of engaging enemy fighters sent to intercept, over St Omer near the Pas du Calais.
The events are best recalled by reading the squadron's Intelligence Combat Report for 5th February 1941:
11 Spitfires took off from Tangmere and 1 Spitfire took off from Tangmere at 1208 hours and 1219 hours respectively to accompany No. 610 and No. 302 (Polish) Squadron with No. 302 Squadron leading to rendezvous over Rye with Blenheim bombers and No. 601 Squadron. They were to proceed to St. Omer aerodrome, crossing the coast between Boulogne and La Touquat to attack the aerodrome and buildings at St. Omer. Close escort to be provided by No. 601 Squadron and further cover provided by other squadrons of fighters. No. 65 Squadron made the rendezvous but 'A' flight lost sight of the 'circus' as did Blue 3 and Green 3 also and these joined up with 'A' flight. The weather although apparently clear over Rye, was hazy in patches, and it was in one of these patches that 'A' flight lost sight of the rest of the formation. They therefore proceeded to the French coast but failing to find the 'circus' came back and patrolled Dover and Folkestone, returning to base at 1350 hours. Blue 1 and Blue 2 proceeded above the formation and were later joined by Green 1 and Green 2 when nearing the French coast. About 10 miles inland Green 1 and Green 2 saw a number of ME 109s which came from behind. Three of these attacked Green 2 (P/O Hill) and Green 1 (F/O Finucane) immediately attacked the leading aircraft with a short burst. The E/A then dived towards the ground and Green 1 followed, getting in a further burst. The E/A then crashed into a wood. Green 1 then observed a Spitfire which he assumed to be Green 2 (YT-L Hill) flying very slowly about 100 feet from the ground and being attacked by 2 ME 109s. Green 1 approached and drove off the E/A without being able to fire for fear of hitting Green 2. He last saw Green 2 flying very slowly near the ground. Green 1 having by this time lost sight of the formation returned to base and landed at Tangmere at 1315 hours, the remaining 9 Spitfires had landed at Tangmere by 1350 hours.
The "kill" was claimed by the by German Ace Walther Oesau, pictured inspecting his victory.
---
Geoff Hill was quickly captured, but proved to be a troublesome prisoner, attempting several escapes, for which he was awarded an MBE after the war. In January, 1942, while imprisoned at Stalag Luft I at Bault, he made his first attempt at escape. At mid-day, during a snow storm, he climbed over the perimeter wire, dressed as a civilian. A look-out post was close .by, but Flight Lieutenant Hill counted on the sentry being kept in his box by the storm and on the high wind covering the noise of his climb. The driving snow squalls hid him from the sentries at neighbouring look-out posts. Flight Lieutenant Hill successfully negotiated the perimeter and got away. His objective was Saggnitz, about 80 miles away but, due to the intense cold, he was arrested on its outskirts some days later, suffering from exposure and exhaustion. In the summer of 1943, Flight Lieutenant Hill made a second attempt to escape. He bribed one of the sentries to allow him and another officer to climb the perimeter wire near a look-out post. This attempt was made about sunset but was also unsuccessful as the bribed sentry thought the escapees had been seen and fired as they were trying to cross the wire, with the result that they were recaptured almost immediately. On other occasions, Flight Lieutenant Hill made abortive escape attempts. Once, while serving a term of imprisonment in cells for a previous attempt, he attempted to cut through the window bars. During the whole period of his captivity, he was closely connected with all escape activities and never flagged in his determination to escape. Eventually he ended up at the infamous Colditz, where his understanding of German led him to read a lot of the Castle's books regarding antiques. After being released in February 1945, and discharged from the RAF as Flight Lieutenant later that year, Geoff Hill became one of the leading antique dealers in London until his death aged 80 in 1996.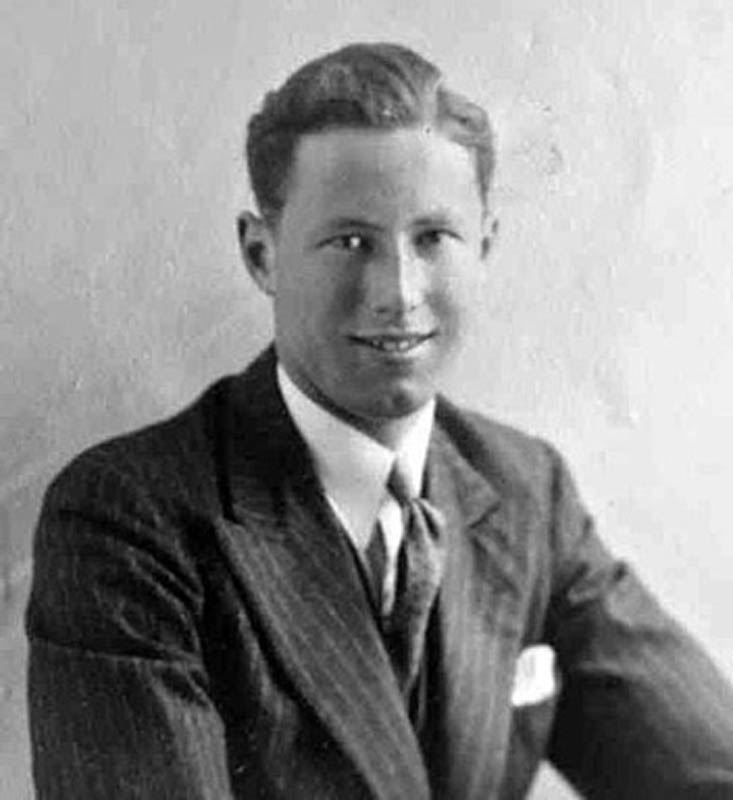 The Model
Revell's recent new-tool model with reworked cockpit with extra wiring/piping shamelessly copied from another modellers research, PE seatbelts, other odd metal parts, foiled undercarriage legs, airbrushed and gently weathered, depicting the scene at Tangmere as per the B/W picture, with the worn out grass and rough tarmac dispersal area.
---
And thanks to Max Williams for the black and white rendition of the model, designed to capture the look of the original photo: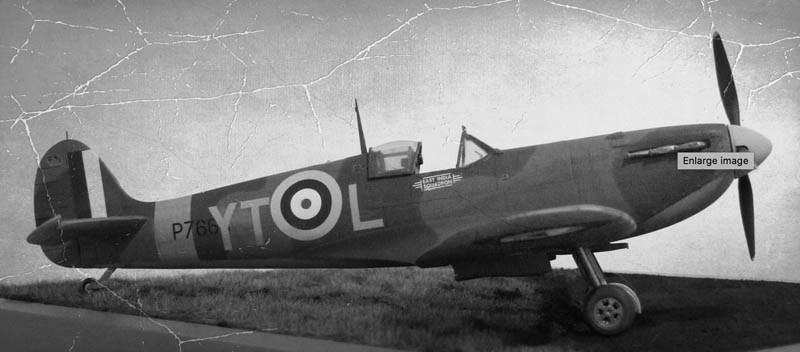 © Guy Keller 2019
This article was published on Saturday, November 16 2019; Last modified on Saturday, November 16 2019