Kinetic 1/32 F-86F Sabre
By Luc Janssen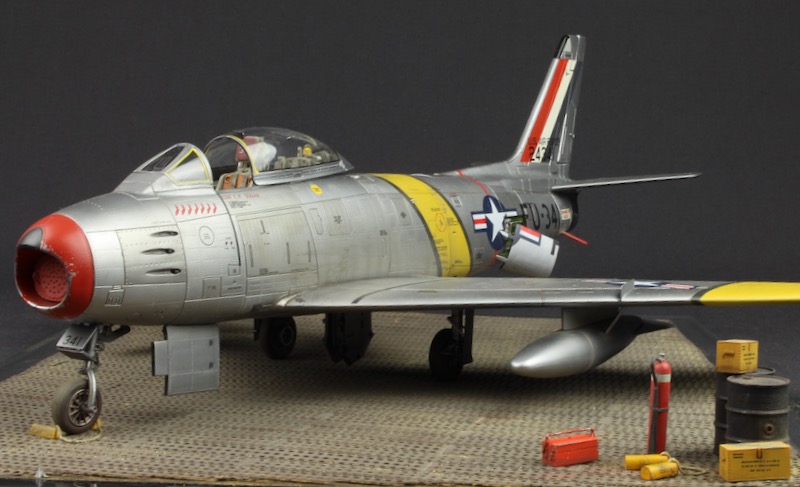 As I haven't built many bare aluminium models yet, I decided to start to make some models of unpainted aircraft to learn more about the different metal paints. I went for the F-86F Sabre as deployed in the Korean conflict.
The Kinetic kit is basically good, but a bit on the rough side. Contrary to the Hasegawa kit, the panel lines are engraved, although too heavy for today's standards.
For the cockpit I used parts of the CAM aftermarket kit and added scratch-built items such as the interior of the canopy and the details behind the ejection seat.
From scratch I built the airbrake wells with the airbrake actuators and added some plumbing and piping. The position of the opened airbrakes is completely wrong in the kit!
I also gave better detail to the front landing gear, added the brake lines of the main gear and some minor detail on the wheel rims.
Aftermarket Sets
As mentioned, I used the F-86F Sabre Cockpit Detail Set from CAM.
Paints
The metal paints Aluminium, Dark Aluminium, White Aluminium, Chrome and Jet Exhaust came from Alclad and the other colours from ModelMaster.
Decals
I used the decals from the kit together with decals from my spares box.
References
F-86 SABRE – Maurice Allward
F-86 Sabre in action – Squadron/Signal Publications No 33
MIG ALLEY – Squadron/Signal Publications
F-86 Sabre in Color – Squadron/Signal Publications
North American F-86 Sabre, Owners' Workshop Manual – Haynes
---
For questions or remarks, go to: lucjanssen32nd.com.
© Luc Janssen 2019
This article was published on Monday, December 23 2019; Last modified on Monday, December 23 2019