Fly 1/32 Fa330 Focke-Achgelis
By Rick Kranias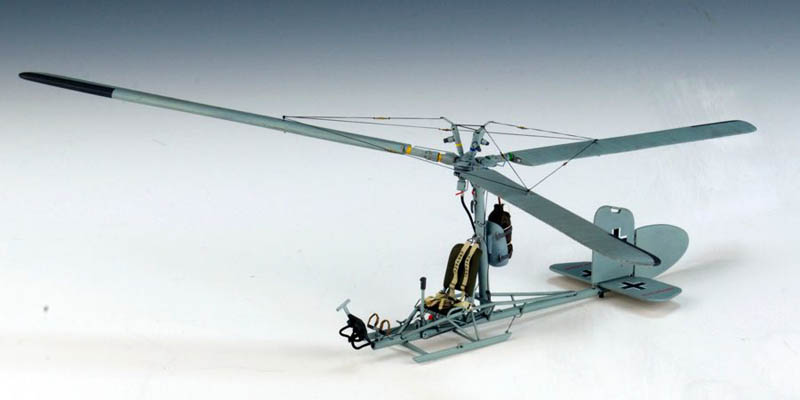 The Fa 330 Bachsteize (Wagtail) always interested me as a unique aircraft with an equally unique mission. This was towed aloft to about 400ft (120m) by the U-Boat so the pilot could see beyond the horizon view (25 nautical miles) and report any enemy activity. Stored in three watertight compartments by the conning tower a team of three can assemble and disassemble the Fa 330 in about 20 minutes.
U-boat commanders disliked the Fa 330 as the prolonged time on surface make their boat venerable to an air strike or detection by enemy ships. The Fa 330 was abandoned in the North Atlantic due to allied air superiority but continued use in the South Atlantic and Indian Ocean.
The only recorded successful use of the Fa 330 was 5 August 1943 by U-177 on the Indian Ocean off the coast east of Madagascar. Greek merchant ship Efthalia Mari was observed by U-177's Fa 330. U-177 proceeded to intercept the Efthalia Mari and sink her with two torpedoes. fthalia Mari lost 1 crew of 43.
U-177 did not survive the war and was sunk 6 February 1944 in Atlantic west of Ascension Island by an American P4BY-1 Liberator. U-177 lost 50 crew of 65.
Not a easy build as there was plenty of angst and head scratching moments. This build also gave me an opportunity to practice rigging as a Wingnut Wings kit will be landing on my bench soon. The build thread can be found in the forums.
Build Details
Replaced over a dozen tubes with styrene rod
Scratch

All Grab Handles on frame and underside rotors
Cleats on skids
Parachute Pack and all straps
Turnbuckles on Outriggers on top of rotor hub
Pitot Tube and mount
Instrument Panel mounts
Foot Pedal and Straps

Rigging & Cables

INFINI Medium 110 (.121mm) Black Lycra thread
EZ Line Medium
ANYZ Black .5mm Braided thread
Brown .4mm Braided thread
RB Productions P32023 Turnbuckles
GasPatch Rigging eyelets

Albion Aluminum Slide Fit Tubes
Gunze
Vallejo
Tamiya
MiG Washes
Decals

MDC Luftwaffe Instrument Dial

HGW
---
© Rick Kranias 2020
This article was published on Wednesday, January 22 2020; Last modified on Wednesday, January 22 2020