Italeri 1/32 Mirage IIIE
By Christian Gerard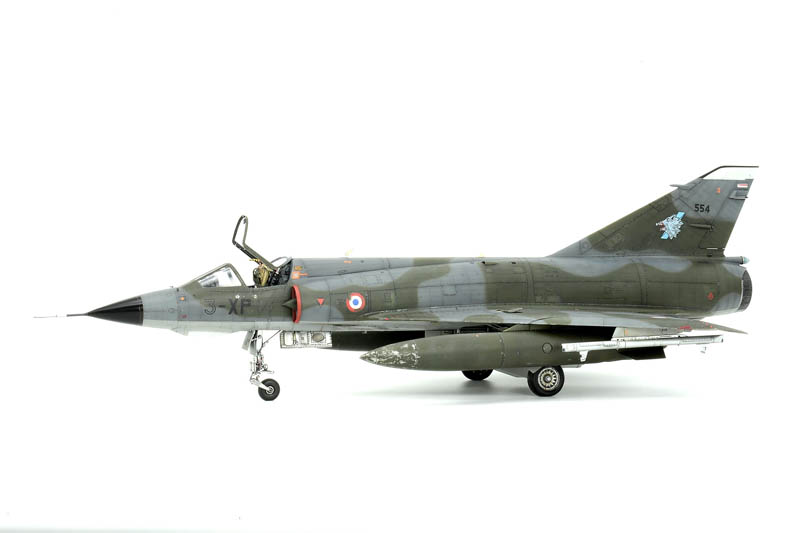 This is my Mirage IIIE built from the Italeri kit in 1:32.
The model took me more than 600 hours to build after some modifications, corrections and refinements were done.
The Italeri kit generally is a lot better than the old Revell one, however the quality leaves something to be desired and it is not up to the standard of these days.
The model represents an aircraft of EC3/3, a Martel shooter in the air defence Suppression role. The surface of the kit was almost completely redone by engraving new Panel lines and stitching rivets.
One of the major problems of the Italeri kit are the intakes, which are looking too slim, which I have reshaped until they looked satisfying.
An other problem was the canopy. The one in the kit was warped and completely useless. Italeri and the German importer were kindly enough to spend a free replacement, unfortunately which wasn´t much better either. They looked blurry and hours of sanding and polishing were spent for a nice result.
---
All in all, I enjoyed the kit and eventually will build a second one later in the future. A Mirage IIIE in an air defence setup of Colmar based EC13 or a Belgian AF Mirage 5BA conversion are Standing Right on top of my to do list in 1:32.
© Christian Gerard 2020
This article was published on Tuesday, March 10 2020; Last modified on Tuesday, March 10 2020