Roden 1/32 Fokker Dr.1 Multiple Build and Diorama "Flying Circus"
By Kent Karlsen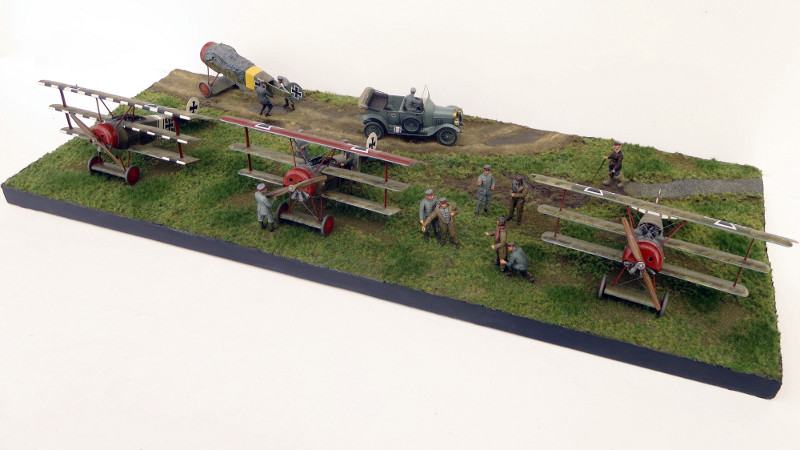 So, after 14 months on/off the 'Flying Circus' diorama has finally crossed the finish line… March/April 1918 - Fokker Dr.I No's 502/17 - 588/17 - 477/17 (Figures: Model Cellar, Copper State Models, Blackdog and Aviattic).
It is a bit of a puzzle, converting and placing the figures. With two or three it is not a big deal. But with this number of figures there must be a story or stories to be told in the diorama. Initially I have an idea of what I want, but it takes quite some time to get it right. I have started using pointed nails mounted in the bottom of the figures. In that way I can move the figures around. In the beginning I place them, but they tend to move around a lot! I have the diorama in a place where I can see it when passing, so I can check it from all angles. It can take a week or so to make the final decision of where they must go. (And then I am not even sure).
Enjoy!
Check out the Triple Dr.1 Work in Progress.
Check out the Diorama Base Work in Progress.
---
© Kent Karlsen 2020
This article was published on Wednesday, May 06 2020; Last modified on Wednesday, May 06 2020