Revell 1/32 Mosquito
By Olivier Barles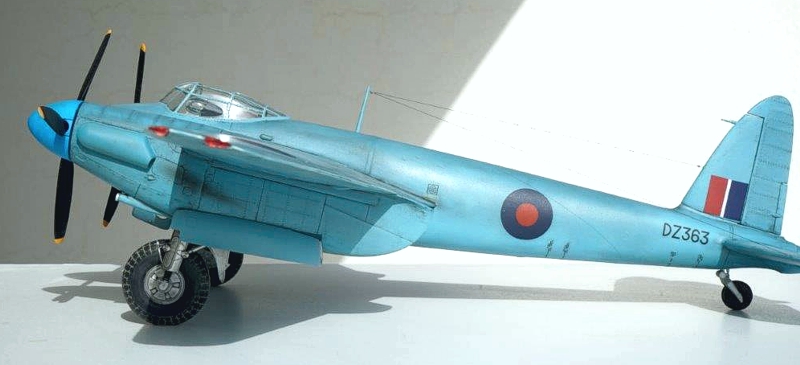 Here are a few pictures of the venerable Revell Mosquito in 1/32 scale.
I built the first one when I was a teenager in the late seventies. At that time, I was definitely attracted by its big size and I did not care so much about accuracy and fitting…
This first model had disappeared long time ago after a move, but I could get a new kit when it had been re-released a few years back.
This time, I decided to do my best and make the build more in line with current modeling standards: Engraving panel lines but keeping existing rivets, scratch-building the entire cockpit (that is very empty otherwise) and opening its access door at the bottom, making the nose windows rectangular (they have a wrong trapezoidal shape on the kit), cutting the control surfaces to fix them in a more dynamic position, etc.
Nevertheless, fitting remained a major issue more precisely for the fixing of the transparent parts, including the main canopy.
Then, I chose to go for a nice PR Blue, trying to obtain different nuances by using shading and weathering techniques.
---
© Olivier Barles 2020
This article was published on Thursday, May 28 2020; Last modified on Friday, May 29 2020