Trumpeter 1/32 Grumman F4F-3 'Wildcat'
By Michael Rohde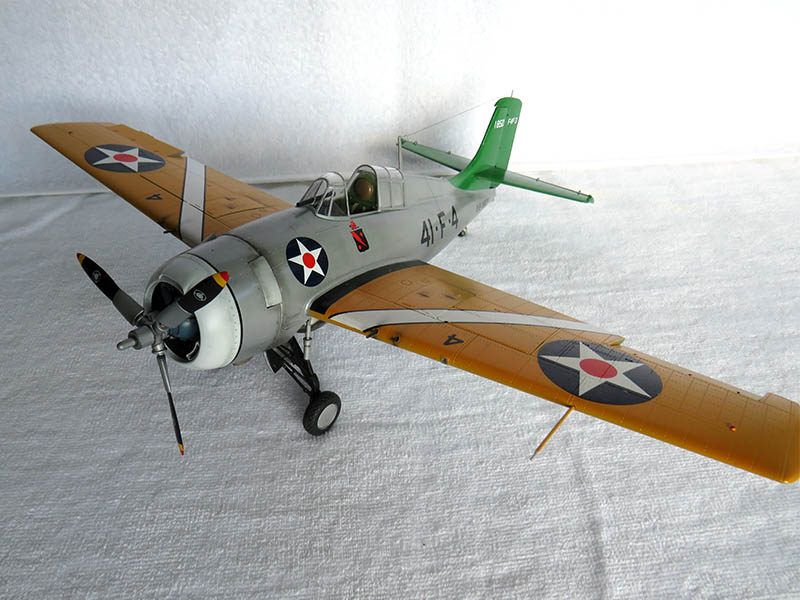 The model depicted in this build (Bu No 1850) belonged to a first batch of eighteen F4F-3s ( Bu No's 1848- 1865) and were delivered to Fighting Squadron Four (VF-4, renamed later VF-41) during November and December 1940.
This squadron was assigned to the aircraft carrier USS Ranger (CV-4) and the aircraft had bright pre-war markings with Glossy Willow Green tail surfaces and chrome yellow upper wings. The fuselage was painted aluminium.
VF-41 saw service as part of the Atlantic Fleet's Neutrality Patrol during 1940 and 1941.
Neutrality Patrol aircraft were distinctly marked to identify them as American. For this purpose, Wildcats carried a national insignia on both sides of the forward fuselage.
This model was built out-of-box . The only modifications were the use of a set of Eduard seat belts and adding scratch built ignition leads using fine copper wire.
---
Weathering was kept minimal to reflect an almost new, peacetime service aircraft.
---
© Michael Rohde 2020
This article was published on Friday, September 11 2020; Last modified on Friday, September 11 2020