Trumpeter 1/32 MiG-29 SMT Fulcrum
By Luc Janssen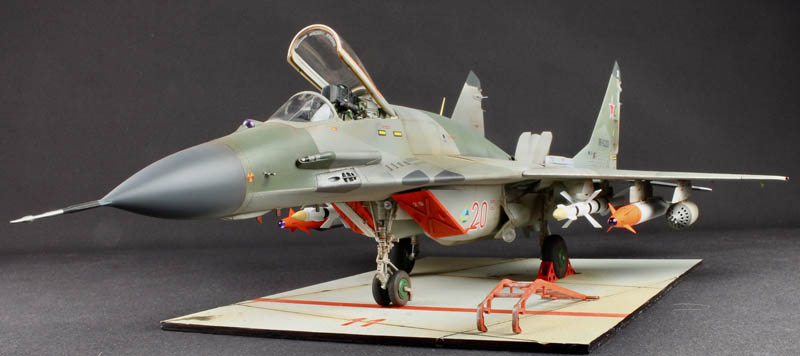 This Trumpeter product includes a lot of options as open or closed intakes and airbrakes, different antennas, a big variety of underwing stores, an airfield tow bar and an access ladder, but it is a difficult kit causing much trouble when trying to get everything right. It took me some putty, sanding- and rescribing work and a little imagination to strengthen the construction, but at the end it worked out fairly well.
After checking my books and magazines and the internet, I opted for a Fulcrum with flying hours and the consequent weathering. When comparing pictures of MiG-29s with rather new or older paint, the older colours seem to get a more greenish appearance instead of the grey colours of the new paints. From Avionix I used the cockpit detailing kit with the seat, but unfortunately the fit is completely wrong and furthermore I had to remake a lot of details as knobs, handles and wiring. I added the brake lines and some other details to the landing gear and the actuators for the airbrakes. The exhaust covers came from quick boost and the air intake covers were built from scratch.
---
The underwing stores came from the kit.
After Market Sets
Following sets were used:
AVONIX: cockpit set
QUICKBOOST: exhaust covers type B
Paints
I used paints from ModelMaster, Humbrol, Alclad, Modelcolor and Procolor.
Decals
The excellent decals came from the kit.
References
Publikace 4+: MiG -29 all variants
TOPSHOTS: MiG-29
Aerofax Extra 2: MiG-29 Fulcrum
Squadron/signal publications 112: MiG-29 Fulcrum in action
VP: MiG 29 C
The Internet
---
For questions or remarks, go to: lucjanssen32nd.com.
© Luc Janssen 2020
This article was published on Sunday, October 11 2020; Last modified on Sunday, October 11 2020