Revell 1/28 Fokker Dr I Triplane
By Andrea Ferrari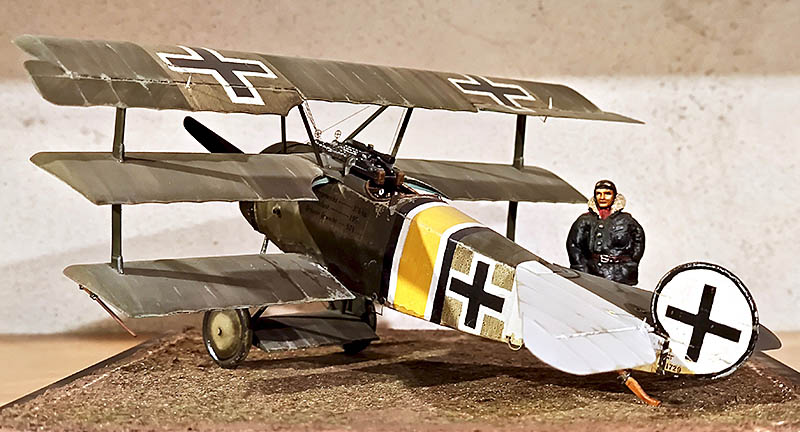 Thirty-five years ago Revell's 1/28 Fokker DrI Triplane kit was considered a highly desirable kit by any standards. Here was a relatively large, reasonably detailed, fairly priced model of a legendary warplane – the mount of Manfred Von Richthofen, the Red Baron himself! Any "Peanuts" reader and Snoopy lover simply had to have one. Over the years the kit has reappeared under several boxings since its first appearance in 1957 (it is exactly my same age!).
Today the kit appears to be rather crude, severely underdetailed (even if the actual plane was pretty basic itself) and almost toy-like. But back then, I loved it, and built more than one – the colorful liveries of the Jastas which employed it offered the modeler a great variety of choices.
Here's one I did about thirty-five years ago in the colors of Oblt. Karl Bolle of Jasta Boelcke, as it appeared over the front in May 1918. I remember painting Fokker's distinctive streaked olive green camouflage with oils over a tan Tamiya acrylic base, and using the full photoetched detail set by Copper State Models to enhance its meagre detailing. The standing pilot was mildly converted from the figure provided in the kit itself using Milliput.
---
© Andrea Ferrari 2020
This article was published on Sunday, November 01 2020; Last modified on Sunday, November 01 2020