Trumpeter 1/32 Su-25 Frogfoot
By Andrea Ferrari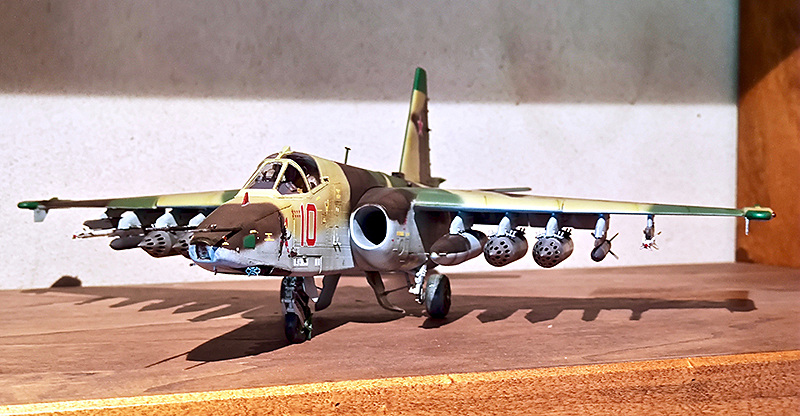 Trumpeter's rather impressive 1/32 Su-25 Frogfoot A has been my first non-WWII or WWI warplane in fifty-five years of modelling, and my first modern post-war jet.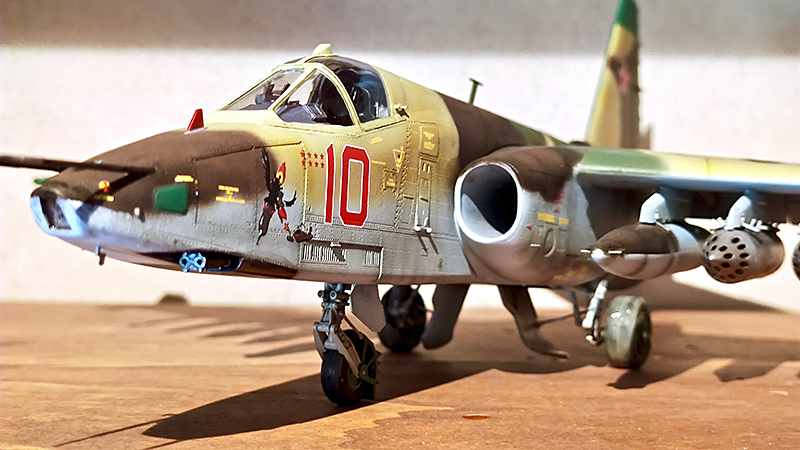 I really love the brutish, shark-like appearance of the Su-25 – squatting low and mean on some dusty forlorn airstrip, heavily loaded with a huge variety of intimidating weapons and looking the part (but I must add that I've always been very partial to fighter-bombers and ground support planes).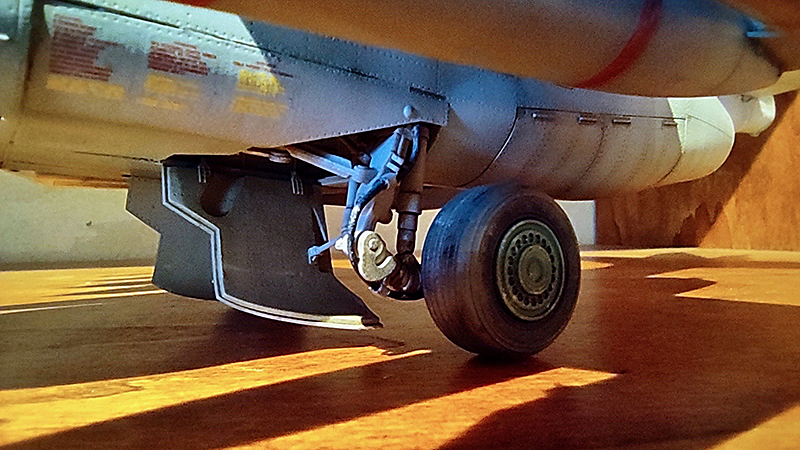 Building the kit was very enjoyable – the kit is nicely sized and perfectly buildable, with finely engraved detail and superb fit. The model was built basically OOB – my only modifications being shortening the long range fuel tanks, adding resin Quickboost outermost pylons and adding the very visible brake lines to the landing gear.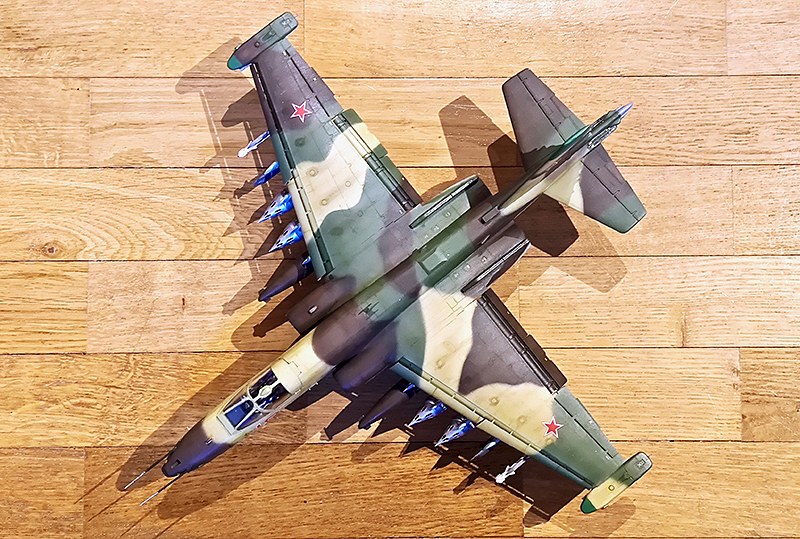 As I have said, building the kit was quite easy – but painting it in the well-worn livery of an Afghanistan veteran "Rook" was a true nightmare for me. Seduced by Vallejo's clever marketing, I for once abandoned my well-tested paint brands – Tamiya, Gunze, Xtracolor – and fell for one of their beautifully packaged squeeze bottle "Soviet era" packages. I wish I hadn't. First of all, the shades marketed and labelled as those rather unique and exotic Soviet-era colors are basically generic, i.e. their Soviet camouflage green is just an Olive Drab in disguise and so on. So much for historical accuracy. But the worst was yet to come, and disaster struck when I started airbrushing. No matter what I tried – PSI variations, continuous dismantling and cleaning of the airbrush, endless variations in dilution ratios, all sorts of different thinners (including Vallejo's own) – paint would stubbornly alternate between clogging the tip of my Paasche after a couple of seconds and spidering wildly on the kit's surface, plus occasionally spattering madly all over the place, just for a change. In the end I wasn't able to get a clean, tightly-sprayed demarcation line anywhere on my lovingly assembled Frogfoot. Never in my modelling career I have experienced such frustration and disappointment with a paint range, and I have sworn never to use Vallejo paints again.
I have now switched for good to MRP, and I must say these are hands-down the absolute best paints I have ever used – their huge range offers all the correct shades (some pretty esoteric) and their pre-diluted, ready-for-use acrylic lacquers spray smoothly and evenly, with a highly durable finish. I'm currently using them on my latest build – Trumpeter's 1/32 Su-27 Flanker B. As for my Su-25, in the end, and after much swearing and cursing, it was lightly overpainted with old, out-of-production WK enamels out of tins and weathered with oils, and after all the problems I'm pretty happy with it.
---
© Andrea Ferrari 2020
This article was published on Saturday, November 07 2020; Last modified on Saturday, November 07 2020